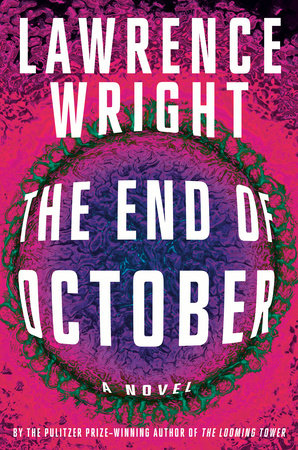 I was going to wait a couple of weeks until I posted a June 2020 list of Books Most Recently Enjoyed by MillersTime readers, but since I have some free time and want to write more than three sentences (the limit for the next list posting), I want to draw your attention to Lawrence Wright's just published The End of October.
You may recognize the author's name as he writes for the New Yorker magazine and in 2007 won a Pulitzer Prize for general nonfiction for his book The Looming Tower: Al-Qaeda and the Road to 9/11. He's written four other books, a script for Oliver Stone's movie Noriega: God's Favorite, and co-wrote a screen play, among other activities. Although The End of October was released at the end April of this year, Wright finished the writing of the book well before the current COVID-19 virus appeared in China, around the world, and in the US. It is his first novel as he has been primarily known for his nonfiction works.
It is riveting, entertaining, sobering, and filled with information about the science and history of earlier pandemics wound around the fictional story of a CDC scientist/doctor and his family and a novel pandemic (not COVID-19 but eerily similar and much more dangerous) that threatens the world.
Wright has done his research, after all he's primarily been a nonfiction writer, and that's what makes The End of October so rich and so frightening. Plus, Wright understands much about the world in which we live, its politics – domestic and international — its religions, the hopes and fears of all of us. He mixes the strong narrative and its characters with scientific facts. It's written like a mystery: the pace of the book is literally heart-throbbing, and it doesn't let up. (I listened to it, all 13+ hours) while walking on the treadmill, usually extending myself at least a couple miles beyond what I intended.)
I loved and admired the main character, built on an relatively unknown, or forgotten, British epidemiologist of the late 1800s and early 1900s. And I got caught up in the numerous plots and twists and turns of Wright's story.
It is not a flawless novel by any means, but the reader can't help but be amazed at how Wright has so accurately been able to foresee so much of what has been occurring over the last three to four months in this country and in the world. He has insisted he did not write The End of October as a cautionary tale but that he looked at the history of pandemics (particularly, but not only, the 1918 Spanish Flu), used what scientists and doctors told him, and added stress and his imagination to a story of an initially contained outbreak of what he termed the Congoli virus.
The result is 400 pages of reading or 13 hours and 26 minutes of listening to a story that mixes fiction and nonfiction in a book you will not forget.