Tags
"The Humans", 2015 Tony Awards, Arian Moayed, Best Featured Actor, Best Featured Actress, Cassie Beck, Jane Houdyshell, Joe Mantello, Lauren Klein, Reed Birney, Sarah Steele, Set Designer David Zinn, Stephen Karam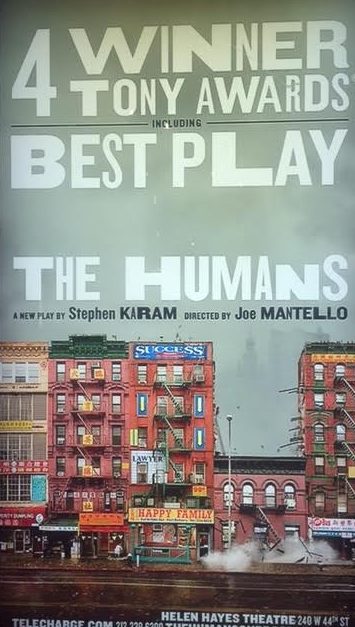 Fortunately, we had tickets for this Broadway play prior to its winning four Tony Awards. But you can still get tickets to this outstanding drama more easily and at less cost than ones for Hamilton. If you enjoy a universal story, wonderful acting, and a remarkably well written drama, see The Humans.
Everything about The Humans seems just right, from the set and staging, to the slowly unfolding story, and especially the superb acting by the entire cast.
The story revolves around a family in which each member is facing some personal crisis; a family that cares deeply about every other member; a family struggling to be understood by each other and ultimately to understand how their lives have gotten to this point. The 90-minute play has been called a "comedic drama" — an apt description.
I have always used Luigi Pirandello's Six Characters in Search of an Author as one standard by which I judge drama. What has always intrigued me about that play was the playwright's ability to get the audience to empathize with each of the six characters as they compete (in that play) for the sympathy and the understanding of the author and the audience.
Ironically (?), The Humans has six characters too, and as the play develops and as the life and struggles of each of the six characters are revealed, I found myself empathizing with all of them, despite their flaws and failings.
As many family dramas do, this one takes place largely around a dinner table. The parents, along with the father's mother who is in an advanced stage of dementia, have come to NYC from their home in Pennsylvania to see their younger daughter's 'new' apartment (in Chinatown), to meet her boyfriend, and to have Thanksgiving dinner together. Their elder daughter has come from Philadelphia to join the family for the day.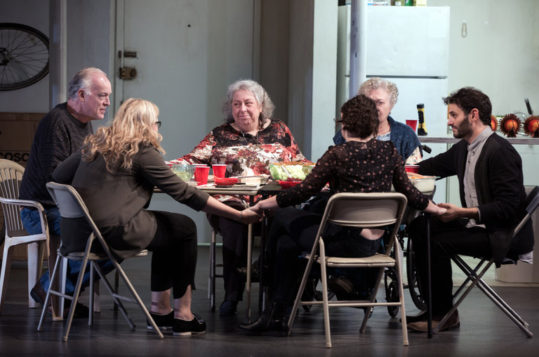 NYTimes photo
Stephen Karam, the author, has avoided what easily could have been a sappy plot. The actors, under the direction of Joe Mantello, couldn't be better. Jane Houdyshell as the mother and Reed Birney as the father have both won Tony Awards as best featured actors/actresses in this play. But the other four actors — Cassie Beck, Lauren Klein, Arian Moayed, and Sarah Steele — are equally wonderful in the roles they play.
When we were exiting the theater, we saw Lauren Klein, the grandmother, talking with a family who had just seen the play, and we overheard them say, "We're from Pennsylvania too and that could have been our family on the stage."
Rarely does every aspect of a play seem to get everything just right. In The Humans, everyone involved in the production does their job extraordinarily well.