Tags
"Angels of Fenway", "Before This World", "You've Got a Friend", and Storen, Arnie Beyeler, Big Papa, Boston Red Sox, Brian Butterfield, Familia, Fenway Park, Jackie Bradley Jr., James Taylor, Joe Kelly, Jordan Zimmerman, Matt Harvey, Mets, Mookie Betts, Nats, Nieuwenhuis, NY Mets, Papelbon, Red Sox, Rick Porcello, Rivero, Rusney Castillo, Ryan Zimmerman, Sox, The Washington Nationals, Trieinen, Tyler Clippard, Werth, Xander Boegarts
Angels of Fenway
No. I'm not referring to the new Sox outfield of Mookie Betts, Jackie Bradley, Jr., and Rusney Castillo, tho "Angels of Fenway" might be an apt way to talk about to those three young, exciting players (see more below).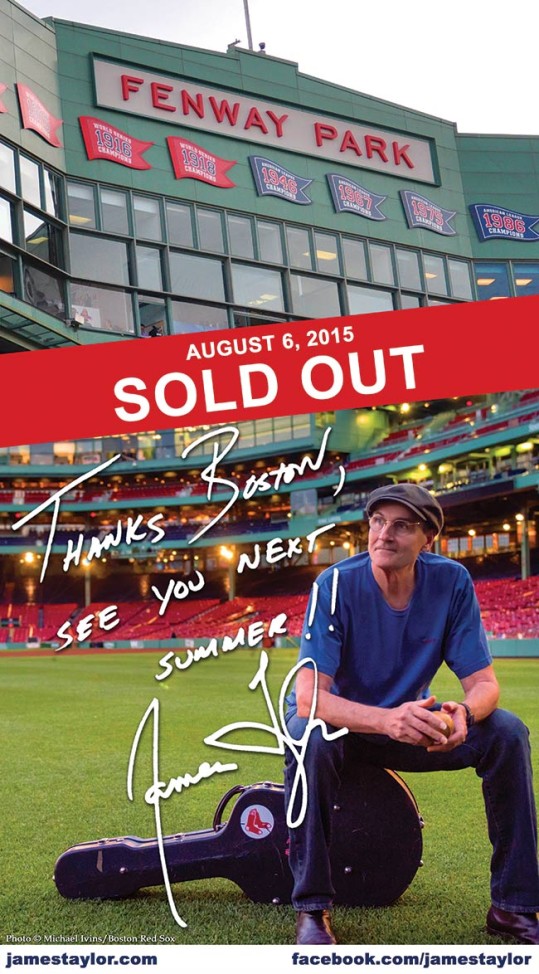 But I am talking about that Fenway and someone familiar to most Sox fans.
James Taylor has been entertaining us for a long time now, starting with his first hit in 1970, Fire & Rain, and certainly since his 1971 You've Got a Friend.

He's been a frequent visitor to Fenway Park and a long time Sox fan. On August 6, 2015 he performed at a sold out concert at that wonderful temple.
In his newest album, Before This World — his first with all new material since 2002, according to his website — there's a song entitled Angels of Fenway.
Check it out. I doubt it will replace You've Got a Friend as a favorite, but see what you think.
**          **          **          **          **          **
Meanwhile, if you've 'checked out' of following the Sox too carefully because of their disastrous season, check back in. And not just the scores. Watch Betts, Bradley, and Castillo. All three are exciting to watch in the field. Their hitting is good too (Betts – BA – .285, Bradley .312, Castillo .284.). Ever since the Sox settled on these three (and got Hanley out of left field), their record has turned around. Too late, of course, but they just might not end up the worst in the AL East.
With Boegarts coming along, fielding and hitting (.318), with Papi 'warming up' (31 HRs), and with Kelly (7-0, 2.72 in last seven games) and Porcello (3-3, 2.98 in his last six) finally doing what they were projected to do, the Sox are 13-6 in the last three weeks and on their way for a better 2016.
And one other thought about my Sox. One of the not-so-obvious factors that rarely gets much attention in the press, I think, is the Sox coaching staff, particularly Brian Butterfield and Arnie Beyeler, but others too. They not only know baseball, they know how to work with players, particularly young players. Butterfield, Beyeler, etc., deserve more attention and credit than they receive publicly.
**          **          **          **          **          **          **          **          **
How the Nats Lost It
It's not just that the Nats lost last night to the Mets and that they're rapidly losing any chance to win the NL East or even get into post season.
It's how they lost.
They started off well, scoring three runs in the first two innings off Matt Harvey, the Mets best starter. Meanwhile, the Nats' Jordan Zimmerman pitched well, for 5.2 innings, giving up only one run and three hits.
Then the Nats knocked Harvey out of the game with a four run 6th inning (with a bit of help from a Cespides misplayed single). So 'we' went to the 7th ahead 7-1. Some Nats fans even left, apparently feeling the game was secure, and the Nats would end the night only four games out of first.
However, if you know much about the Nats this year, you know their middle relief is a disaster. Trieinen, Rivero, and Storen then gave up three hits (including a bases clearing double by Cespides, no longer the goat) and six walks. So just like that, in that half inning, the game was  tied 7-7.
The next inning, they did what fans have been wanting manager Williams to do — pitch closer Papelbon in close games prior to the 9th. Yup, he gave up a home run in the top of the 8th to pinch hitter Nieuwenthuis, who was hitting below .200 prior to his home run. The Mets went ahead 8-7 in the 8th.
And true to form, the Nats couldn't score again, despite having men on first and second with only one out in the 9th. In fact, the Nats out hit the Mets 11-7 but left 6 of 10 runners in scoring position.
Tyler Clippard, formerly of the Nats, got the Hold for the Mets, striking out two in the 8th, and Familia got his 38th Save by getting the Nats out in the 9th.
Storen had his 5th Blown Save, and Papelbon was charged with the Loss.
Werth struck out three times and Harper went 0-4.
I don't know where Ryan Zimmerman was. He didn't play.
Bottom line:
Nats: No middle relief, resulting in a 7-1 blown lead, plus an inability to come back to tie it or win it with men on base.
Mets: Another big inning and 3.2 innings of no run relief. Now up by six games with 24 left to play.
Sad night (and season?) for the Nats and Nats' fans.