Tags
"Fun Home", "Hamilton", 2015 Tony Awards, Alexander Hamilton, Alison Bechidel, Best Musical, Broadway, Circle in the Square Theatre, Emily Skeggs, Founding Fathers, Jeanine Tesori, Lin-Manuel Miranda, Lisa Kron, Michael Cerveris, musicals, Ron Chernow, Sydney Lucas
I'm not really a Broadway musical kind of guy. In a 'former life' I certainly enjoyed South Pacific, The King and I, The Sound of Music, My Fair Lady, Fiddler on the Roof, West Side Story, and, in 'more recent times', I've also enjoyed such shows as Hair, Les Miserables and even Book of Mormon. Generally, however, I find I prefer dramas to musicals when we are looking for plays to see.
Last week made me question that preference a bit. We saw two musicals on Broadway that were outstanding.
Mind you they were nothing like the traditional musicals.
One was about a dysfunctional family and a suicide (Fun Home), and the other was about the least well known of our Founding Fathers who was killed in a duel (Hamilton), neither of them traditional material for musicals.
Fun Home has won five 2015 Tony Awards, including Best Musical, and Hamilton, which has just opened on Broadway, will no doubt and deservedly win every award for which it is eligible.
Here, in the order in which we saw these two remarkable productions, are mini-reviews of the best plays I've seen on Broadway in many years.
Fun Home ****1/2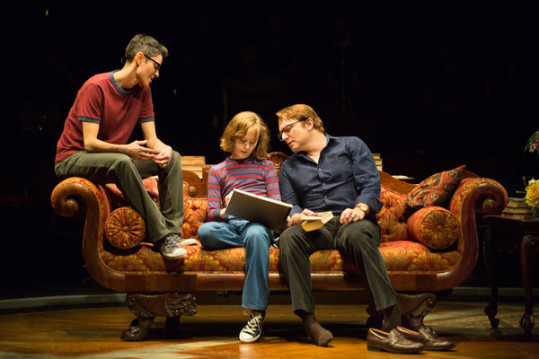 Photo by Sara Krulwich, NYTimes
Other than having heard it had won several Best Musical awards, I didn't know much about this play prior to walking into Circle in the Square Theater.
It's the story of a family (parents and three children in a small American town) that largely focuses on the relationship between the daughter and her father. We see the daughter, Alison, as a small child, as a young college student, and as a professional graphic artist. Her father, Bruce, is a high school English teacher and restores houses as well as operates a funeral home.
But nothing is as it first seems.
The play is based on a graphic novel/memoir by Alison Bechdel that has been turned into a musical drama (book and lyrics by Lisa Kron and music by Jeanine Tesori). It's Bechdel's coming of age story as a lesbian and learning that her father has long been a closeted gay man. It is also her father's story and a family tragedy.
It is largely through the music that we come to understand the characters, and while none of the songs are memorable — or are ever likely to make you tap your foot — they serve to let the character tell you their stories and their feelings.
Both the singing and acting are terrific, particularly that of the younger two Alisons (Sydney Lucas and Emily Skeggs) and the father (Michael Cerveris, 2015 Tony winner for Best Performance by an Actor in a Leading Role in a Musical). Additionally, one song/scene with Alison and her two brothers is almost a 'show stopper', and there is a particularly sad and gripping song by the mother (Helen).
Fun Home is largely a drama (with some comedy interspersed) conveyed through music. It is performed in-the-round, and, perhaps because we were in the front row, we felt as if we were part of the 100-minute production (no intermission), tho I suspect the entire audience also felt they were in the middle of this absorbing drama/musical.
Hamilton *****
Photographed by Annie Leibovitz, Vogue, July 2015
If I were still teaching high school history as I once did, I'd find a way to get my students to see Lin-Manuel Miranda's Hamilton. If I couldn't get them to the theater, I'd show them a video of the production. If I couldn't get the video, I'd settle for the musical score (expected release Sept. 25, 2015).
American history would never be the same for these students.
The musical tells a story about the rise and fall of Alexander Hamilton in such a manner that you cannot help but be caught up in the telling of it and cannot help but come away wondering why you didn't know many of its details before now.
Basically, Miranda has taken historian Ron Chernow's mammoth 2004 biography of Alexander Hamilton and has brought it alive on stage. (Miranda wrote the script, composed the music, and plays Hamilton.)
While it is quite faithful to Chernow's portrayal of Hamilton and the other historical figures of his time, that is not the chief reason why this production is so good and so unlike other historical plays you may have seen. What is unique is how Miranda has made the characters meaningful to contemporary America. They come alive and are relevant to our world through the music — think hip hop, rap, R & B and pop — not what you would usually associate with the telling of an historical story.
The dancing, the costumes, the staging, and the lighting are classic Broadway style. However, Miranda has put Hamilton, the other Founding Fathers, and all of the supporting cast in constant motion. Yes. George Washington, Thomas Jefferson, Alexander Hamilton, James Madison, Aaron Burr and the three women in Hamilton's life (Eliza his wife, Angelica his sister-in-law, and Maria, his mistress) don't just sit around and talk. They all dance and rap on a stage that has a whirling turntable that keeps the action and the actors moving.
And the actors do not look like the pictures you've seen of these individuals in our history books nor like their various statues in our monuments. In fact, very few of the actors are white men or white women. In his casting of his actors and in his making the characters contemporary in their actions and in their words, Miranda has brought the past into today.
If all of this sounds a bit weird, know that it works. It's riveting. And it's possible to understand much of what happens even if you are not use to this kind of music. While this is not the musical of your childhood, or perhaps like any other musical you've ever seen, it is mesmerizing.
I am looking forward to the release of the music on Sept. 25th, and I can't wait to see this play, yes this musical, again.