Tags
"Augustus", "Financial Times, Abraham Lincoln, Alexander Hamilton, Donald Trump, Federalist Papers, Franklin Delano Roosevelt, Marco Rubio, Martin Wolfe, pluto-populism, Reaping What One Sows, Robert Kagan, Roman republic, Ted Cruz
A friend sent me a link this morning to an article written by Martin Wolfe in the Financial Times, entitled "How Donald Trump Embodies How Great Republics Meet Their End."

Although the article's title may be an overstatement, the body of what Wolfe writes parallels what I have been feeling, thinking, and saying (to a small group of friends who are concerned about what the rise of Trump means for this country and what can individuals who feel similarly do).
In another post, at another time, I will add to the theme of 'reaping what one sows' as I think it is not only the Republicans who must face this but also the Democrats (for not having effectively countered the Republicans).
In the meantime, see what you think about what Wolfe writes: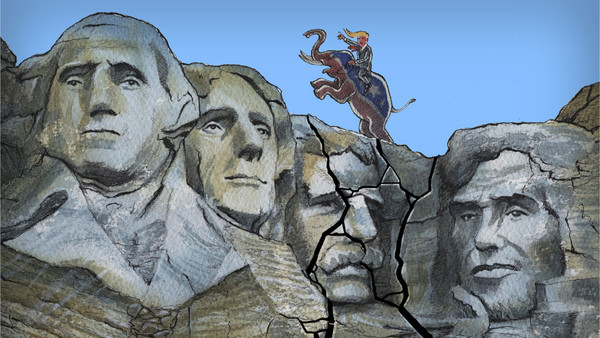 @James Ferguson, Financial Times
What is one to make of the rise of Donald Trump? It is natural to think of comparisons with populist demagogues past and present. It is natural, too, to ask why the Republican party might choose a narcissistic bully as its candidate for president. But this is not just about a party, but about a great country. The US is the greatest republic since Rome, the bastion of democracy, the guarantor of the liberal global order. It would be a global disaster if Mr Trump were to become president. Even if he fails, he has rendered the unthinkable sayable.

Mr Trump is a promoter of paranoid fantasies, a xenophobe and an ignoramus. His business consists of the erection of ugly monuments to his own vanity. He has no experience of political office. Some compare him to Latin American populists. He might also be considered an American Silvio Berlusconi, albeit without the charm or business acumen. But Mr Berlusconi, unlike Mr Trump, never threatened to round up and expel millions of people. Mr Trump is grossly unqualified for the world's most important political office.

Yet, as Robert Kagan, a neoconservative intellectual, argues in a powerful column in The Washington Post, Mr Trump is also "the GOP's Frankenstein monster". He is, says Mr Kagan, the monstrous result of the party's "wild obstructionism", its demonisation of political institutions, its flirtation with bigotry and its "racially tinged derangement syndrome" over President Barack Obama. He continues: "We are supposed to believe that Trump's legion of 'angry' people are angry about wage stagnation. No, they are angry about all the things Republicans have told them to be angry about these past seven-and-a-half years".

Mr Kagan is right, but does not go far enough. This is not about the last seven-and-a-half years. These attitudes were to be seen in the 1990s, with the impeachment of President Bill Clinton. Indeed, they go back all the way to the party's opportunistic response to the civil rights movement in the 1960s. Alas, they have become worse, not better, with time.

Why has this happened? The answer is that this is how a wealthy donor class, dedicated to the aims of slashing taxes and shrinking the state, obtained the footsoldiers and voters it required. This, then, is "pluto-populism": the marriage of plutocracy with rightwing populism. Mr Trump embodies this union. But he has done so by partially dumping the free-market, low tax, shrunken government aims of the party establishment, to which his financially dependent rivals remain wedded. That gives him an apparently insuperable advantage. Mr Trump is no conservative, elite conservatives complain. Precisely. That is also true of the party's base.

Mr Trump is egregious. Yet in some respects the policies of his two leading rivals, Senators Ted Cruz and Marco Rubio, are as bad. Both propose highly regressive tax cuts, just like Mr Trump. Mr Cruz even wishes to return to a gold standard. Mr Trump says that the sick should not die on the streets. Mr Cruz and Mr Rubio seem to be not quite so sure.

Yet the Trump phenomenon is not the story of just one party. It is about the country and so, inevitably, the world. In creating the American republic, the founding fathers were aware of the example of Rome. Alexander Hamilton argued in the Federalist Papers that the new republic would need an "energetic executive". He noted that Rome itself, with its careful duplication of magistracies, depended in its hours of need on the grant of absolute, albeit temporary, power to one man, called a "dictator".

The US would have no such office. Instead, it would have a unitary executive: the president as elected monarch. The president has limited, but great, authority. For Hamilton, the danger of overweening power would be contained by "first, a due dependence on the people, secondly, a due responsibility".

During the first century BC, the wealth of empire destabilised the Roman republic. In the end, Augustus, heir of the popular party, terminated the republic and installed himself as emperor. He did so by preserving all the forms of the republic, while he dispensed with their meaning.

It is rash to assume constitutional constraints would survive the presidency of someone elected because he neither understands nor believes in them. Rounding up and deporting 11m people is an immense coercive enterprise. Would a president elected to achieve this be prevented and, if so, by whom? What are we to make of Mr Trump's enthusiasm for the barbarities of torture? Would he find people willing to carry out his desires or not?

It is not difficult for a determined leader to do the previously unthinkable by appealing to conditions of emergency. Both Abraham Lincoln and Franklin Delano Roosevelt did some extraordinary things in wartime. But these men knew limits. Would Mr Trump also know limits? Hamilton's "energetic" executive is dangerous.

It was the ultra-conservative president Paul von Hindenburg who made Hitler chancellor of Germany in 1933. What made the new ruler so destructive was not only that he was a paranoid lunatic, but that he ruled a great power. Trump may be no Hitler. But the US is also no Weimar Germany. It is a vastly more important country even than that.

Mr Trump may still fail to win the Republican nomination. But, should he do so the Republican elite will have to ask themselves hard questions — not only how this happened, but how they should properly respond. Beyond that, the American people will have to decide what sort of human being they want to put in the White House. The implications for them and for the world of this choice will be profound. Above all, Mr Trump may not prove unique. An American "Caesarism" has now become flesh. It seems a worryingly real danger today. It could return again in future.
Many of the comments that follow this article in yesterday's Financial Times are interesting too. Go to: http://on.ft.com/24zsLF4 and scroll to the bottom of the article if you want to read some of them. To write to the author, use martin.wolf@ft.com.
As always, I encourage respectful Comments on this site.