How is it that even though I read a lot and think I'm attuned to books and writers of value, I did not know of Marilynne Robinson?
The Marilynne Robinson who won the 2005 Pulitzer Prize for her novel, Gilead and whose other books have won or been finalists for numerous awards (National Book Awards, etc.).
Thanks to friend and MillersTime reader Robin Rice, I have spent the last two weeks reading Gilead, Home, and Lila. And rather than waiting for the year's end listing of MillersTime readers' favorite books, I thought of bringing your attention to Robinson and her writings now (in case you have been as clueless as I was).
Gilead, Home, and Lila are not exactly a trilogy and can easily be read independently or in any order, though starting with Gilead is probably best. They are stories about two families in southern Iowa, in the fictional town of Gilead. Each family is headed by an aging minister (Rev. John Ames and Rev. Robert Boughton), and these two men are life long friends. Each of the three novels focuses on an individual or several individuals in one of the two families, and they are all characters that you will not soon forget.
In Gilead, the main character is Rev. Ames, an elderly minister who is nearing the end of his life. The novel is written in the first person and is in the form of a letter to his young son, Robby, aged seven. Rev. Ames wants to let that son know of his father and his family and also about life lessons that he will not be alive to pass on to his son. It's simply lovely.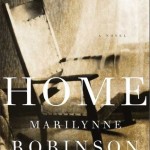 In Home, Robinson moves to the third person and tells the story of one of the sons and one of the daughters of Rev. Boughton. Written through the 'eyes' of Glory, his youngest daughter, the novel focuses on both Glory and Jack, the son who has brought heartache to Boughton and to his family. I was captivated and absorbed particularly by the portrait of this son.
In Lila, Robinson returns to Rev. Ames' family, but here the focus is largely on his young wife, another fascinating character and quite different from any of the others in the three novels. We learn of Lila's history of a life of poverty, her unlikely marriage to Rev. Ames, and her struggles to understand herself and her life. It could be called a love story, but if so, it is unlike any such story I have read. And Lila is unlike any other character I have encountered.
I have always been intrigued by writing that gives the reader different perspectives of similar events (Pirandello's Six Characters in Search of an Author is a wonderful example of this). In Robinson's three novels about Gilead, she does just that, although I suspect her intention is simply to explore three or four characters in more depth than she could do in just one book.
There are many other themes and strands in the three books. There is much about religion (a bit too much for my taste), about friendships, about family relationships, about values, about faith, about life in small Midwestern towns, about aging, and also a bit what was happening beyond the small town of Gilead.
But more than anything, I loved the character portrayals and the writing.
While I have no answer to the question I posed in the opening paragraph above, I owe much thanks to Robin for insisting I pay attention to these three novels and to Marilynne Robinson.