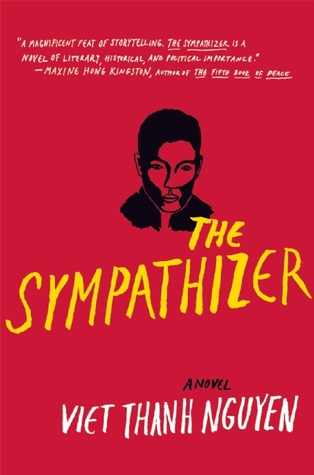 Every so often, usually when I'm feeling particularly guilty about overly enriching Amazon by purchasing 'Kindle' books, I go to Washington's independent bookstore, Politics and Prose, to buy a couple of hardback books.
Usually, I look for Mark, the head book buyer, I think, and ask him what are the two best books he's read in the last couple of months. He rarely steers me wrong. (Because of suggestions he made, for example, I read All the Light Between Us and also The Son, shortly after each was published. The former recently won the 2015 Pulitzer Prize for fiction and the latter was one of the finalists for the Pulitzer in 2014.)
About 10 days ago I was in the store, saw Mark, and asked my usual question. He immediately went and got The Sympathizer by Viet Thanh Nguyen and read me the opening page. Then he found a copy of Mary Costello's Academy Street and said, "Also, here's a little gem that hasn't been reviewed yet, but I loved it." (See my earlier post, Mary Costello – A New Voice.)
I read, actually consumed, The Sympathizer first and wanted to write about it, but I noticed the author was coming to Politics & Prose for an author talk and decided to wait until I saw and heard him in person. That happened Wednesday night.
Nguyen began his 'talk' by reading, for 15 minutes, two passages from his novel. I usually don't like it when an author does that. However, as he got into the second passage, the scene from the narrator's meeting with the director ("the auteur") of a film about the war in Vietnam, I found myself drawn in and clearly recalling each word Nguyen had written. It's a wonderful part of the long, and sometimes wordy, first novel but captures much of what is good about The Sympathizer.
You might be tempted to ask, "why read another novel about the war in Vietnam?" There have been some good ones by American writers, and, according to Nguyen, also some good ones by Vietnamese writers. This one, however, carves out some new territory: it's as much about America as it is about Vietnam, and it's written through Vietnamese "eyes" and, as such, brings a different perspective of the war and particularly of events after the war. (Nguyen was born in South Vietnam and moved to southern California with his family when he was four. He is currently an associate professor of English and American Studies and Ethnicity at the University of Southern California.)
The novel opens recounting those final hectic days when the US abruptly decided to abandon Saigon, but what is captivating is 'seeing' that exodus through the eyes of the South Vietnamese. The story then moves to the US, along with most of its main characters. Much of the life he describes of the former South Vietnamese community that came to this country was unknown to me. It's a fascinating story of their integration (or not) into the southern California communities in which many settled and how these immigrants continued to fight their civil war from the U.S.
The narrator, never named, is the lead character, and the novel is written in the form of a confession. This man worked closely with a lead South Vietnamese General, and at the same time was a spy for the North Vietnamese. He continued in those two roles even after he moved with the South Vietnamese General to Los Angeles.
While the plot is a bit complicated and took me some time to sort out, what I found wonderful was the narrator's comments, observations, and insights on America, his views of the people who made up both the South and North Vietnamese forces, and his descriptions of the invisibility of non-whites in the U.S.
It's a dark novel, alleviated, to some degree, with humor. It is candid, and its insights about our country and on a range of historical and current events are brilliant.