Tags
Almost, Anna Bakery, Chinatown, Chinese Food, Millerstime, Sam Wo, Sam Wo Bakery & Restaurant, San Francisco, Thommie Award. Thomas Wolfe, You Can Go Home Again, You Can't Go Home Again
Thomas Wolfe, it turns out, is not entirely correct.
Though, in this case,"Home" has moved two blocks (three minutes walking or 52 seconds by car).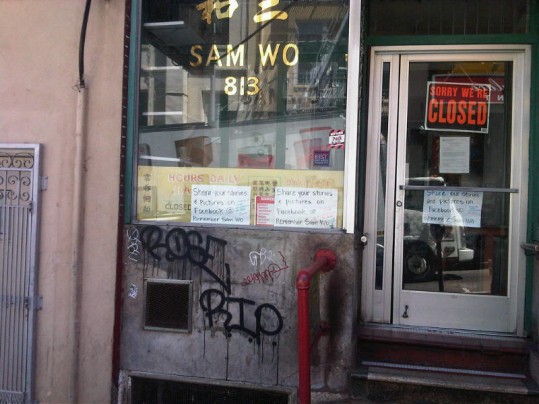 Yes. Yes. Yes.
Sam Wo's is coming back.
Maybe as soon as this summer.
According to my 'Google Alert' sources (Tablehopper), the Sam Wo people have taken taken over the Anna Bakery and will reopen as Sam Wo Bakery & Restaurant.
Construction should be under way in a week or so, and they are targeting July for the reopening. The kitchen is already there, but they are doing a fair amount of renovations: there will be a mezzanine for groups, and upstairs they are installing an all-new soup kitchen, where they will prepare jook and wonton soup. And like the previous location, there will be a dumbwaiter—although this will be a modern one bringing food up from the basement. The restaurant will have the same amount of seats and will offer some express takeout. Hours are looking like they'll be 7am-3pm, with more hours in the afternoon for tea and a partial menu. (Anna Bakery used to be a hangout for the elderly in the afternoon for tea, and they want to preserve that tradition.) The plan is to then open again at 9pm, serving until 4am like they used to.
For those of you who read MillersTime carefully — not a large group I know — you will remember several earlier posts on the topic of the closing of the San Francisco restaurant that had had the 'world's worst waiter' but had simple, cheap, and delicious Chinese food:
Oct. 11, 2011: You Can Go Home Again, Almost, wherein I took issue with Thomas Wolfe and 'proved' you can almost go home again.
April 21, 2012: A Sad Apology, wherein I apologized for saying, You Can Go Home Again, Almost.
Mar. 25, 2015: MillersTime Wins an Award, where in I proudly announced that I had just won the "prestigious Thommie Award" for my A Sad Apology post as an example of "excellence in literary interpretation".
(Note: I fear the Awards Committee from the Thommie Wolfe gang will request I relinquish my prize. Hopefully, I can count on my MillersTime readers to support me in what I hereby promise will be a vigorous defense of my work.)
PS – For those of you who want to make plans for the opening of Sam Wo's Bakery & Restaurant in July, here are instructions on getting from the old Sam Wo's on Washington St. to the 'new' one on Clay St.:
Driving – 52 seconds:
1. Go west from 813 Washington St. towards Waverly Pl. (0.02 miles)
2. Take 1st left onto Waverly Pl. (0.02 miles)
3. Take 1st left on to Clay St. (0.10 miles)
715 Clay is on the right.
Walking – 3 minutes:
1. Go East on Washington St. towards Grant Ave. (0.07 miles)
2. Turn right onto walkway. Proceed south thru Portsmouth Square. (0.07 miles)
3. Turn right on Clay
715 Clay is on your right.
Anyone want to meet me there?