Tags
"The Curious Incident of the Dog in the Night-Time", Blue Fin, Chinatown, Civic Hall, Eataly, Excellent Dumpling House, Genesis, International Center of Photography, New York City, Rockefeller Center, Saks, Sebastiao Salgado, Tarallucci E Vino, Times Square, Union Square, Upland Restaurant
* Any resemblance to the NYTimes series "36 Hours in ____" (you name the city) is mostly accidental.
Most New Yorkers stay as far away from the city as they can the last few days of the year, but we actually love it. So, we planned to meet our KC daughter there just before New Year's. In the end, she couldn't make the trip. But we did.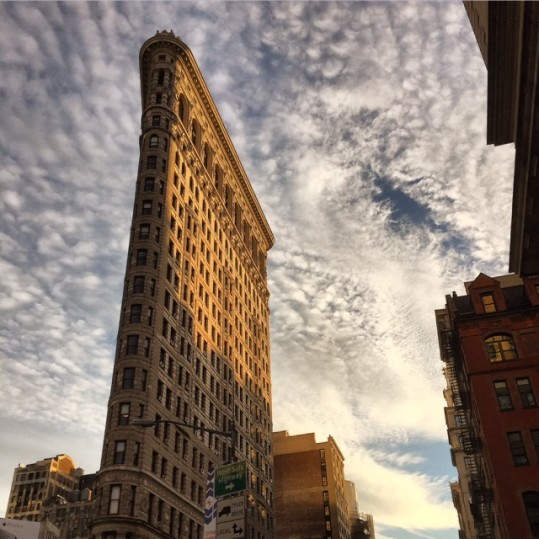 32 Hours in New York City
Monday:
1:30 PM – Chinatown
Exiting Holland Tunnel onto Canal Street, turn right onto Lafayette St. and park in the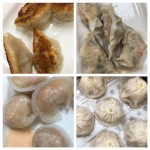 legal space on the corner, 50 feet from the Excellent Dumpling House (111 Lafayette St.). Don't be put off by the crowds at the door at this 12-table hole-in-the-wall restaurant. The turnover is quick, and the inexpensive dumplings are terrific. You may have to share a table with other customers, but that might also give you a chance to see what else you might want to order.
2:30  PM – Union Square
Get the key from the doorman and leave luggage in your friend's Union Square apartment. (This friend has wisely left for a few days, probably so he won't have to
sleep in the hall as he did when, on a previous trip, EllnMllr 'accidentally' locked him out of his own apartment). Return to the parking garage to retrieve the phone you left in the car, then cross the street, giving wide berth to the guy walking with a cat on his head (alas, no photo), and wander in Union Square Market. (Note the Kosher-Gluten Free-Vegan-Free Range-Organic Ostrich, and other such offerings).
4 PM – Strolling on Lower Fifth Ave. (see photo of Flatiron building above)
Wander up Fifth Ave., stopping at the soon to be opened Civic Hall (156 5th), a new center for people and organizations engaged in civic technology.
Continue on 5th and stop in at the Lego Store (200 5th) to decide whether to get the grandchildren the dinosaur or the snake. (We ended up with neither.)
If you love markets, as we do, and wander in them in whatever city you visit, then spend your remaining afternoon time at/in Eataly (5th between 23rd & 24th streets), the 50,000 square foot 'store' (including, tho not limited to seven restaurants, more olive oils than you've seen anywhere, wonderful fresh breads, meats, cheeses, vegetables, pastas, wines and everything edible you could ever want that's Italian).
7 PM – Strolling on Park Ave. South:

After depositing purchases in 'your' apartment and resting briefly, cross Union Square, walk up Park Ave, window shopping, and then try to find the Upland Restaurant (345 Park Ave. South) which actually isn't on Park Ave at all but around the corner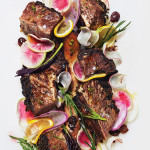 (E.26th). It may not be the only reason to spend some time in NYC, but if you are in the city and do not eat their roasted short rib (for two), then consider yourself to have missed one of the best dishes we've had in our many years of good eating in NYC. (See January issue of Saveur, which was published after we ate at Upland and includes the short rib recipe, which only takes three days to prepare). Everything else we ordered was also outstanding. Take earplugs, however.
Tuesday:
Sunrise: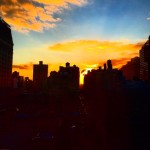 10 AM: Breakfast:
Heading out for coffee, exit the apartment heading north, pass McDonald's (EllnMllr: "Do I look like a McDonald's girl to you?") and walk the few blocks to Trallucci E Vino (15 E. 18th St.) where the coffee is excellent and the almond croissant surpasses any of that variety you may have had. (EllnMllr: "The baker should be named one of the new cardinals.")
11 AM: Photography Exhibit:
After exiting taxi (remember to take your new winter gloves and not leave them on the seat as Mil
lersTime blogger did), spend the next hour and a half at the International Center of Photography (1133 Sixth AVe.) marveling at the photography of Sebastião Salgado. His exhibition, Genesis, "draws together more than 200 spectacular black-and-white photographs of wildlife, landscapes, seascapes, and indigenous peoples—raising public awareness about the pressing issues of environment and climate change." (Unfortunately, the exhibit will close Jan. 11th.)
12:30 – Times Square:
Make your way to Times Square for your afternoon matinee, stopping to get your picture flashed up on the huge Revlon sponsored screen (along with the thousands of other tourists) and stop in at Blue Fin (Broadway at 47th) for a few oysters to tide you over until dinner.
2 PM – Ethel Barrymore Theatre:
And now the reason for this quick trip to NYC: The National Theatre Production of The Curious Incident of the Dog in the Night-Time. Based on the wonderful novel by Mark Haddon and London's Olivier award winning production of the play, The Curious Incident is an assault on your senses. It's also what theater at its best can be. Having seen the Simon Stephens' adaptation in London (see my review), we were 'curious' to see how well it transferred to NY. We were not disappointed. Even though the lead in the matinee performance was Tim Wright, an understudy, we were again mesmerized by this play.
4:30 – Rockefeller Center/Saks Fifth Ave.: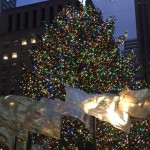 Bundle up, sharpen your elbows and follow the crowds to see the Christmas Tree and lights at Rockefeller Center. Clap for the guy who has stopped the skaters in the rink below by getting on his knee and proposing marriage to his skating partner. If you can cross the street, marvel at the holiday windows at Saks and then stick close to Ellnmllr who can somehow snag a cab, despite the hundreds of other tourists trying to do the same.
6:30 – After a short respite back at the apartment, bundle up again and head out to meet long time friends at Craft (43 E. 19th St.), an aptly named restaurant where the tables are nicely spaced, you can hear what each other is saying, and the food has remained consistent and excellent since it opened in 2001. Wander back to the apartment and crawl into bed, having thoroughly enjoyed the last 32 hours in one of our favorite cities in the world.