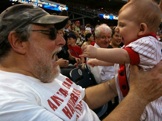 First Game: 7/09                        
Most Recent: 9/13
Dear Eli,
My grandfather, Pappy (Rob Goodman, your great, great grandfather), was the person who introduced me to baseball and to the Red Sox. In all of his years going to Fenway Park (he was a season ticket holder, nights and weekends), he never saw the Sox win a World Series. (He might have seen them play in the World Series one time as the Sox did make it that far in 1946. But he never saw them win because they lost to St. Louis that time.)
The Sox didn't get to the WS again in Pappy's life time and so he never got to see what his grandson (me), great granddaughters (your mother Annie & auntie Elizabeth), and great great grand son (you) have had the good fortune to experience.
I started following the Sox in about 1950, when I was seven years old. I learned everything I know from Pappy. The best week of the year for me was when school was out in June. I would go to Boston for a week and attend as many games at Fenway Park as we could see before I headed off to camp.
But for 54 years, from 1950 until 2004, I never saw the Sox win a World Series. They came close a few times, in 1967, 1975, and 1986, but each time they lost in seven games. Ask me about those sometime.
Finally, in 2004 the Sox beat the St.Louis Cards in four straight games to win the World Series. Then again in 2007, they won again in four straight games, beating the Colorado Rockies.  I went to both of those final games, the one in St. Louis and the one in Denver.
That 2004 World Series was the first time they had won in 86 years.
That was a long time for Boston fans to cheer for them without a WS victory.
I had to wait 61 years before I saw my first World Series victory; your mother and auntie had to wait for 21 and 25 years (and have now seen the Sox win three World Series championships in just a ten-year period). You only had to wait four and a half years. Sadly, your great great father, the person responsible for all of our interest in the Red Sox, wasn't as fortunate as the rest of us.
I was tempted to tell you that this WS victory came too easily for you, that you did not have to wait long enough for it to happen, and that you won't be able to understand why a WS victory as a Sox fan is so special.
Rather, I am glad that it happened for you, that you will not have to go your whole life without it happening, or even have to wait for the number of years I did or your mom and auntie did.
Sure, I'd like you to know and understand that it is not easy to get something you want in life, that having patience and perseverance are important skills to learn, that success takes hard work and time, that losing is something you have to learn how to handle.
But the Sox this year had something else to teach that is also important. I wrote about all of those things in my last letter to you, and I hope you will occasionally refer to that letter.
What the Red Sox were able to accomplish this year, after being the worst team in their division in 2012, is remarkable.
Perhaps even more important is how and why they were able to do it, which is something I hope you will come to appreciate as you get a bit older.