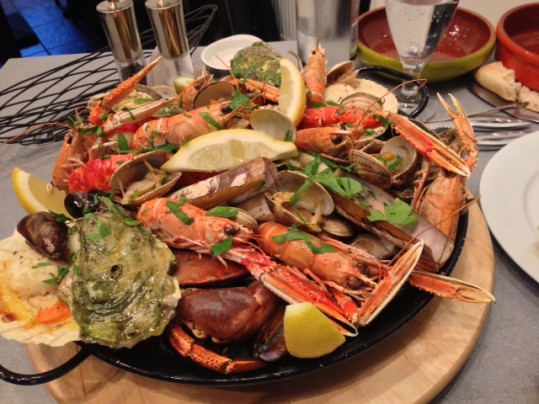 Now that you've seen Ellen's photos from Scotland, and are no doubt in the planning stage of a trip there, I thought I'd add a bit about the food available in Bonnie Scotland (also known as "Alba" or "the greatest country on earth", as the locals say).
It's probably not a reason by itself to go to Scotland, but if you happen to be anywhere within an hour or two drive of Lochleven Seafood Cafe, make a reservation and don't miss it. (It's off A82 between Fort William and Glencoe on B863 on the north side of Loch Leven.)
Without a doubt this was our favorite meal in Scotland. It's an unassuming place, with about 15 tables and simply the most fresh seafood, especially its shellfish, you will get anywhere. I'm certain two oysters spit at me as I was about to eat them.
The picture at the top of this post is Lochleven Cafe's steamed shellfish platter, enough to serve four,
tho we did pretty well with just the two of us as the picture to the right indicates. It's loaded with every kind of shellfish you can imagine — langoustines, mussels, various types of clams, including razor clams, scallops, prawns, lobster, oysters, etc. But almost any offering on the menu is enticing. Had we found this place earlier, we would have come a second time. (I considered going for breakfast or staying in the area for the rest of my life, but then I wanted to remain married.)
What makes Lochleven Seafood Cafe so special, I think, is that it is part of Lochleven Shellfish Company which has been exporting shellfish to Europe and the Far East for many years. They have their own fishing boats, and they store the caught seafood in saltwater tanks right in their distribution 'warehouse'. The Cafe came about because people kept asking about buying fresh seafood; then they began to ask to have the the shellfish steamed for them. In 2006, Alison Grieve, daughter of the company owner John Grieve, opened the simple, informal restaurant on the same sight.
In 2011 the Seafood Cafe was name the Scottish Seafood Restaurant of the Year. I asked what happened in 2012 and was told a restaurant couldn't be chosen two years in a row. I'm putting my money on 2013 for a repeat award.
We had other good meals on our ten day driving trip, mostly in the Highlands. There is much shellfish and seafood, and you can have it prepared simply or in a variety of special ways.
Probably our second favorite restaurant of the trip was in Inverness at the Rocpool Restaurant. It's in the heart of this lovely city, another small place, but the food was outstanding. Steve, the owner, who takes great pride in making your meal and your time at his restaurant as satisfying as can be, told us about a restaurant in Edinburgh, Ondine, which, not surprisingly, also was outstanding, if a bit expensive. In Glasgow, we also had an excellent seafood dinner at Rogano's. (See pix below from these restaurants.)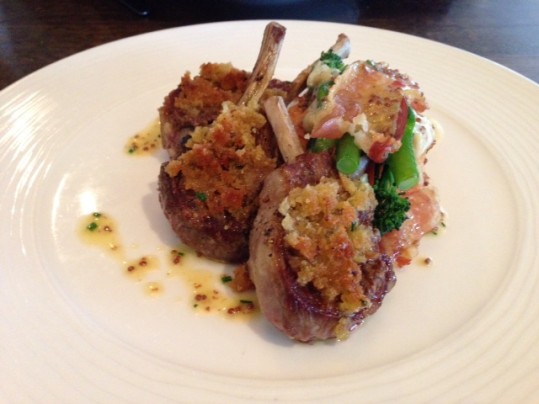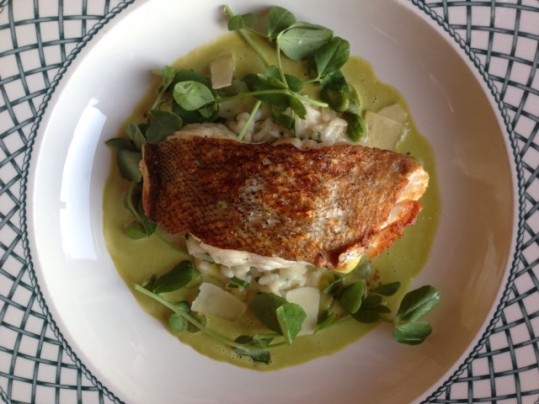 The small restaurants in the various castles where we stayed were simply terrific too – particularly at the Isle of Eriska and at Inverlochy Castle.
Scotland's national dish,
haggis, is available everywhere, and there seems to be a good deal of debate as to where you can get the best haggis. It doesn't sound appetizing — "sheep's pluck (heart, liver and lungs); minced with onion, oatmeal, suet, spices, and salt, mixed with stock, and traditionally encased in the animal's stomach and simmered for approximately three hours. Most modern commercial haggis is prepared in a sausage casing rather than an actual stomach." Haggis is usually accompanied by "neeps and tatties" (turnips and potatoes, boiled and mashed, separately). We tended to stick with the seafood and lamb, but the haggis we did try was quite good, tho it was hard to get over knowing about the ingredients.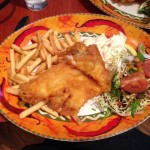 I suspect the second national dish is fish and chips, fried, but the several times we did have it the fish was moist and tender.
Bottom line as far as food is concerned: we were quite surprised at how much good eating there was almost every where we went.
So putting together the lovely countryside, the extreme kindness and friendliness of almost everyone we met, and the good eating, it was indeed a delightful trip.