First, I've updated my list of 2012 films which I rated with four, four and a half, and five stars. There are 40 of them, and while I might adjust a few up or down a star or half star, I'll stick with what I rated them when I saw them.
Below, are four more films I've seen recently and think are worthy of your consideration:
NO  ****
This film was actually one of nominees for the Best Foreign Film, but it has only recently come to theaters in the US. We saw it several weeks ago in our Sunday morning Cinema Club.
It's the 'story' of what happened in 1988 in Chile when, because of international pressure, Agusto Pinochet agreed to let the results of a Yes/No plebiscite decide on his continuation in office.  I didn't know much (i.e., anything) about this particular period in Chile history, but I was fascinated by the film.
Largely, it portrays how the 'NO' campaign, through the use of advertising techniques, chose to convince voters that Pinochet should be rejected and turned out of office. The conclusion to and the result of the referendum are historically accurate, although I don't know if the details of the actual campaign are also accurate. Still, the film is engaging.
Although made in 2012, the film was produced in such a way as to mesh footage of the actual Yes/No campaign with the story about how it was conducted.
The Gatekeepers (Shomerel Ha'saf)  ****1/2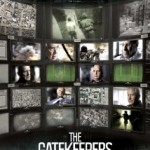 This film is another one that was nominated for an Oscar (Best Documentary) and has only recently been released in the US.
The focus here is on six former heads of the Israeli Shin Bet, the agency tasked with protecting the security of Israel. Largely a 'talking heads' documentary, with historical footage interspersed, The Gatekeepers covers the period from the Six Days War until the present and gives the audience an unusual insight into Israeli policy over that period of time.
While the six individuals interviewed are not similar, they all seem to question their and Israel's policy of simply reacting to events as opposed to having a strategic view of how their country handled and mishandled their task. Politicians, political parties, settlers, and Shin Bet itself all come in for criticism.
No matter your position on Israeli-Palestinian issues, the documentary is worth seeing and discussing.
56 Up ****1/2
I'm new to this film, series of films, but I think I'm probably hooked and will check out the previous ones and look forward to the next one.
Basically, Michael Apted, a British researcher and director (?) has been interviewing 14 diverse individuals every seven years since they were seven years old.  He started in the 1960s, asking about their dreams for the future, and then, every seven years thereafter, he went back to them for interviews and to learn about what was happening with them.
Some viewers have been following 'Up' for many years and 'know' the individuals interviewed, or at least know what the films have revealed.  For me, coming to it for the first time as the 14 (now 13?) individuals are now 56 years old, I was initially skeptical, not knowing if I was watching something that had sociological value, research value, or was simply more voyeuristic.
But as this two and a half hour documentary proceeded, I found myself intrigued. Whether any valid conclusions can be drawn, I'm not sure. But listening to and seeing these individuals over a period of 49 years (56 Up has clips from earlier times in all of these individuals' lives), it is hard not to draw conclusions, not only about the individuals portrayed, but also about what they have learned about themselves and what has been most important in their lives.
I will be curious to know what others take away from 56 Up and would love to schedule a Miller supper and discussion about it. Let me know if you are interested.
Happy People: A Year in the Taiga ****

A documentary by Werner Herzog about life in the wilderness of Siberia, Happy People is actually 90 minutes culled from a four hour Russian TV production that was made in 2010.

Basically, the film follows several individuals, trappers, from the isolated small village (300 people) of Bakhtia through the four seasons of the year. It gives a wonderful insight into how these individuals cope with the severe winters (-50 degrees) as they spend months in the Russian taiga, the forest that is larger than the entire United States, hunting and existing alone for months at a time.
Herzog says these are happy people, but the strength of the film is in the beauty of the severe wilderness and simply observing how these individuals go about their existence. In fact, at times I found Herzog's commentary annoying and unnecessary and wished he had simply let the camera and the trappers tell their story.
In fact, I left the theater feeling the film was too short, and I wanted to see and to know more about this region and these people, including the 300 inhabitants of Bakhtia who are only briefly portrayed. I hope I can find a way to see all four of the one hour episodes from which this documentary was taken.
 *                    *                    *                    *                    *

(Note: Quartet, a film I mini-reviewed earlier, received a 97.6% approval rating (Excellent or Good) from our Sunday Cinema Club. That puts Quartet in the very top category of films viewed and highly rated by the club over the past 20 years.)