Brasilia and Oscar Niemeyer
by Ellen Miller
One of the 20th century's most influential architects — Oscar Niemeyer – died last week at the age of 104.
I felt lucky that just about 3 weeks prior I got a first hand introduction to his work when I was in Brasilia, a city for which he designed nearly every major building. As one architect said on his passing, "Brasilia is not simply designed, it is choreographed."
That's a perfect summary of my experience — not only did the buildings and the plazas hang together, but they were nearly picture perfect. (Though I found it hard to do justice to them.)
I was in Brasilia – my first trip there, but second to Brazil within six months – to speak at Transparency International's conference – a gathering of nearly 2,000 from nearly every country in the world. Whenever possible on these speaking trips I try to sneak away for an afternoon when I am not needed, and hire a guide to learn something I couldn't pick up from a guidebook.
My colleague and I had a terrifically well-educated, passionate historian to take us on this tour, and our minds were filled with the historical importance of what Niemeyer had created. We also learned that he was working on a new project in what turned out to be just three weeks before he died.
Niemeyer changed the global thinking about architecture—that "form follows function." Indeed for him pretty much the opposite was true – as he expressed it that "when form creates beauty it becomes functional
and therefore fundamental in architecture." (Not all his buildings
were so practical as a result.) He was an atheist who created one of
the most stunning cathedrals in the world. He had the genius to take
concrete from pillars and make it into domes. He brought the outside
inside by tearing down the walls of building with glass, often with
brilliant color. You couldn't help but wonder at how some of his works
were able to stay upright. They were a truly architectural marvels.
But now these buildings are degrading: the paint is chipping, the walls
are yellowing, the concrete needs some patching, and the stains from
wear and tear detract.
To honor Niemeyer the government should pay attention to what he has left behind.
Niemeyer is a legend.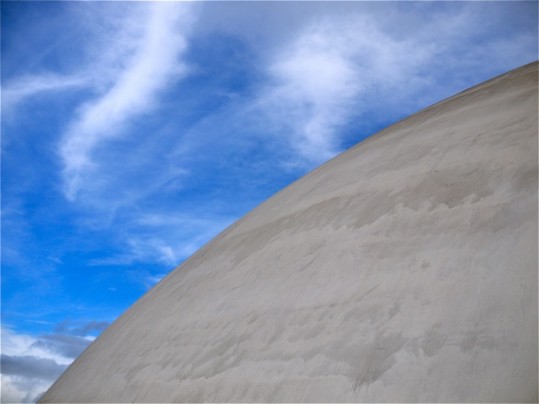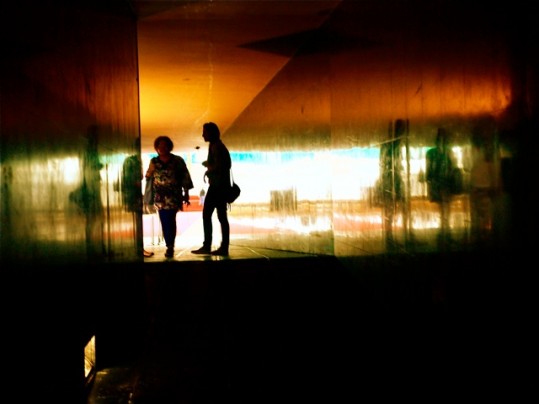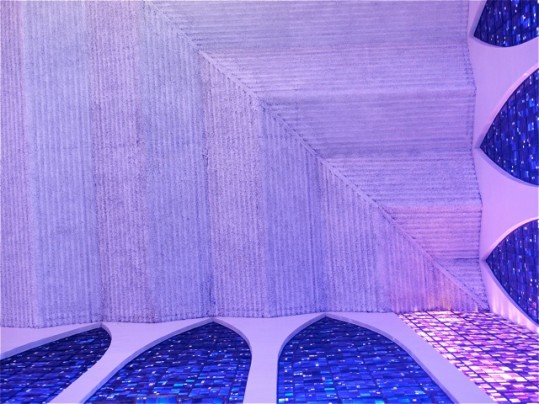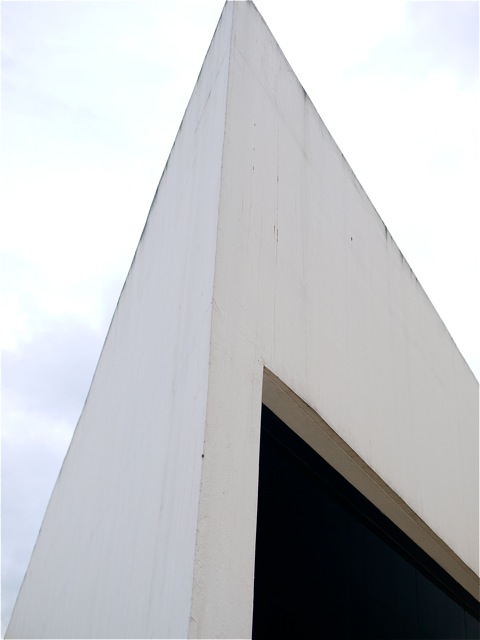 (Ed.
To read more about the life and work of Oscar Neimeyer, go this Wikipedia entry.
To see more pictures of his architecture, go to Creating a City Out of Wilderness and/or Oscar Niemeyer: a life in architecture – in pictures.)