If the Nats win it all, the Millers stand to win $1,040.
The proof?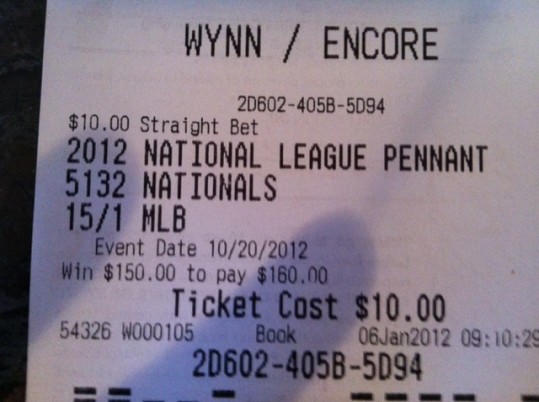 As you can see from the two pictures above, on Jan. 6, 2012, when no one was predicting the Washington Nationals would make the playoffs, yours truly was in Las Vegas with younger daughter Elizabeth. As any good father would do, I purchased some Pennant and World Series bets.
Actually, I purchased four tickets, two for Elizabeth and two for myself.
So, if the Nats win the NL Pennant, both Elizabeth and myself will each collect $160.
Then, tho unlikely, if the Nats win the World Series, we each stand to win an additional $360.
Total between us would be $1,040, $520 each.
If you subtract the cost of the tickets, that's a 'profit' of $1,000.
Additionally, I bought a World Series tickets for both my Atlanta nephews, and they stand to win $200 each should the Braves make it from the Wild Card spot all the way to winning the WS.
Then, I threw in another $10 to buy my so-called Baltimore O's friend a WS bet/ticket. I don't know how much he stands to win if they go from their Wild Card spot all the way to win the WS. But it probably doesn't matter. It seems NR (true initials) can't find his ticket. Typical O's fan, I guess.
(Full Disclosure: Because I am a loyal Red Sox fan, I also made bets for then AL favorites, two for the Sox winning the AL Pennant and two for them winning the WS. That was $40 down the drain.)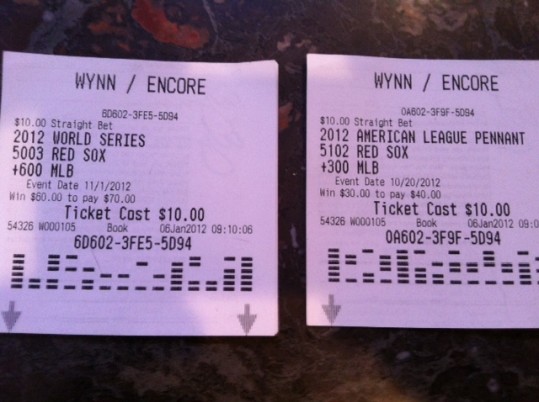 Anyway, my total outlay?
$110.
Any questions?