Remarkable Creatures by Tracy Chevalier ****
I just learned about this book (thanx to friend Donna P), although it was published in January 2010. It's probably called an historical novel as it focuses on some true events that occurred in the 19th century on the English coast. The discovery of animal-like fossils  'rocked' scientific thinking about the age of the earth.
Sounds dull?
It's anything but.
It's largely the story of two women of very different classes who share an interest (fossil hunting) and form a friendship that is tested as the results of their discoveries impact them both.
Author Chevalier (The Girl with a Pearl Earring and The Lady and the Unicorn) takes some historical fact (Mary Anning's discovery of remarkable fossils) and weaves a story that is engaging and feels real.
If you've read Caleb's Crossing (recently reviewed ) and liked it, Remarkable Creatures has many similar attributes. It also reminded me of Jane Austen's writings and a number of her best loved characters.
It's a quick read and a story well told that stays with you long after you've completed the book.
 A Hologram for the King, by Dave Eggers ***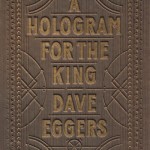 When I learned that Eggers had just published a new book, this one a novel, I hastened to get it and read it, particularly after seeing numerous positive reviews.
I had very much enjoyed three of his previous books (A Heartbreaking Work of Staggering Genius, What Is the What, and Zeitoun).
Not so with his new one.
It's the story of a middle-aged businessman (Alan Clay) who, because of a series of bad decisions, finds himself desperate to win a big contract in Saudi Arabia that will reverse his  fortunes, financial and emotional.
Supposedly, the book is an "allegory about the frustrations of middle-class America, about the woes unemployed workers and sidelined entrepreneurs have experienced in a newly globalized world in which jobs are being outsourced abroad" (NYTimes).
Alan seems a bit like a more modern day Willy Loman (Death of a Salesman), but much more unlikeable than Willy. For me, Alan is such a loser that I find him not only annoying but also so unrealistic that I am totally unsympathetic toward this Eggers' character. And that spoiled the story for me.
So, despite very good writing, some terrific descriptions of what is in fact happening in a declining America (the book is set in 2010), and excellent portrayals of place(s), I found myself dismissing Alan and his struggles and consequently unhappy with Eggers' novel.
But, as I said at the outset, I'm swimming against all the reviewers on this one.