While I await Ellen's OK to post some of her wonderful pictures from our recent trip down the California coast from San Francisco towards LA, I thought I'd write mini-reviews of three restaurants that might be of interest to any of you looking for a good place to eat on the 'left coast.'
1. The Whole Enchilda, Moss Landing, CA (831-633-3038)
If you're driving on Rte. 1 and find yourself near Moss Landing, consider this restaurant. It is easy to overlook it as it's across the street from a major power plant, and it looks kind of sketchy. But if you're hungry, it'd be a mistake to pass up this 'Coastal Cuisine ' restaurant.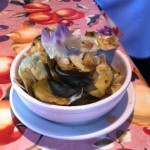 Especially if you like artichokes as the location is not too far from Castorville, the artichoke capital of the world (?). Try the fresh steamed artichoke. They also have deep fried artichokes, tho we didn't partake. If you like garlic (the restaurant is not too far from Gilroy, and some of you know what that means), try the Dona Laura Mussels.
You won't be sorry.  If you've have either of those two as appetizers, then all you'll need to complete your meal is one fish taco. Or, tho we didn't try it, folks say the seafood enchilda (especially the King Crab) is the best dish in the place.
If I'm ever back in the area, I'm going to order the Seven Seas Mexican Cioppino, shrimp, clams, octopus, prawns, mussels, and snapper in a spicy broth – 30 min. prep time. I almost asked the guy at the table next to me for a taste of his.
Actually, I think most any of the items on the menu would be just fine. No. Excellent.
2. Big Sur Bakery & Restaurant, Hwy 1, Big Sur, CA (831-667-0520)
Another restaurant you might not choose as it's behind a gas station and doesn't seem to be too enticing, from the outside. That would be another mistake. Of the five meals we had in the Big Sur area, this one was by far the best.
From the appetizers through the main courses to dessert and including the wines, there was not a misstep in the entire meal. Plus, the folks running the place were delightful, helpful, enthusiastic, and knowledgeable.
Oysters steamed in a pizza oven and 'dressed' in a delightful 'sauce were wonderfully smoky and delicious as were the steamed black mussels. Three of us had the butter braised  pacific white sea bass (some with roasted cauliflower and some with roasted beats) and quickly cleaned our plates. I can't remember a better preparation. The 'outlier' amongst us had a marinated lamb steak (balsamic & rosemary) and was delighted with his choice.
The desserts change frequently, but we had three different ones, and you might even consider starting with them, or perhaps just going there for a wood fired pizza (we didn't have room) and a dessert.
There's a good wine menu and waiters (and the owner?) who pride themselves on knowing local and long distant wines.
3. Stout Burgers & Beer, 1544 Cahuenga Blvd., Los Angeles, CA (323-469-3801).
(Note: From the MillersTime 'Dept. of of Shameless Promotion': My namesake and 26 year old God Son, another Richard, is a manager here and said we "had to try it.")
I never knew there was such a movement as "Gourmet Hamburgers," but apparently California, at least Los Angeles, is leading the way in such  things.
Stout specializes mostly in burgers and beer, offering a half dozen burgers (with names such as  the 'Gombah,' the 'Shu,' the 'Six Weeker,' etc.) dressed with all sorts of good ingredients, emi gruyere, rosemary bacon, crispy proscuitto, smoked mozzarella, fig jam, parmasiano flakes, truffles, etc.). The bun is great, and the few sides of sweet potato rounds, seasoned fries, and a warm pretzel with good dipping sauces are good too.
There are about 30 beers at any given time, many from small, local and longer distant brewers, and the waiters can help you find the right pairing with your gourmet burger.
I must admit that I am of the old school where a burger is simply that,  lots of good, ground meat and a soft roll. But if you want to try something a bit different, give Stout a chance. And they even have an 'old fashion' one (the 'Imperialist') for the traditionalists among you.
Apparently, according to my 'anonymous source,' they have been so successful that they are in the process of opening a second location and there are two more after that in the planning stages.
* We had two other pretty good meals in the Big Sur area, a dinner at Deetjen's Big Sur Inn and a lunch at the Sierra Mar Restaurant at the Post Ranch Inn, where, if there's no fog, all the tables have great views of the ocean. Both meals were good, tho not as special as the one at the Big Sur Bakery & Restaurant.