I have no doubt that Johnny Pesky is resting in peace.
After all, virtually all of his adult life (he died at 92 yesterday) was spent doing what he loved – something connected to baseball, most of the time connected to the Red Sox.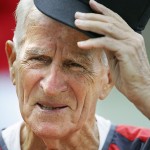 If you're interested in baseball, you already know much about Pesky and no doubt have already read tributes to him, tho most of you know him because of the "Pesky Pole" and as a wonderfully kind, elderly mentor and cheerleader for several generations of Red Sox players.
My own brush with this little guy (he was 5'9″) goes back to my earliest connections to baseball.
For me, Pesky was one of the first Red Sox players I knew and cared about, along with Ted Williams, Bobby Doerr, Dom DiMaggio, Mel Parnell, and Jimmy Piersall.
I've written elsewhere on this site (I Blame You) about my wonderful grandfather's 'gift' to me of the Red Sox. As I was learning about the game, getting to know the players, and going to Fenway one week a year, Pesky was a favorite of mine.
He could field brilliantly and was the part of terrific double plays along with Bobby Doerr. Even better, he could hit, at least get on base (his lifetime average was .307), and, most important, set the table from his number two spot in the line up for my biggest hero, Ted Williams.
Then suddenly he was gone. For a reason I never could understand, the Sox traded him in 1952. I couldn't believe it. But tho I didn't know it at the time, that was a foreshadowing of the current era where very few players stay with a team their whole career.
Pity.
Eventually, I 'forgave' the Sox for this perfidy (something I was to do many more times in my life) but was delighted in my adult years when he came back to the Sox, became a fixture in the Red Sox Nation, and the Sox retired his number (6) even though he never made it to the Hall of Fame.
PS-If you haven't read David Halberstam's The Teammates: A Portrait of a Friendship, you've got a treat in store.