Tags
"Tales of the Alhambra", Albaicin, Alcazar, Alhambra, Andalusia, Bodega Espadafor, Cordoba, Cordova, El Rinconcillo, Grenada, Los Diamantas, Mesquita de Cordoba, Oriza, Plaza de Toros, Puento Neuvo, Restaurante Estrellas de San Nicholas, Ronda, Sevilla, Seville, Southern Spain, Washington Irving, World Heritage site
To celebrate an important birthday of
photographer and spouse Ellen Miller, we snuck in a quick ten-day trip to Andalusia in Southern Spain. We began in Seville (Sevilla), took a day trip by train to Cordoba (Cordova). After returning to Seville, we drove through hill towns and farming areas of Andalusia to Ronda where we stayed overnight. We then drove on to Grenada where we concluded our lovely introduction to Andalusia.
First, a few brief notes on each of the places we explored, then ten photos from Ellen's Andalusia, and finally a link to her slide show:
Seville:
All of our time here was spent walking everywhere, one morning with a guide who asked our interests and proceeded to adjust his tour accordingly (!) and the other two and a half days wandering on our own throughout the city. We learned a lot about how people live, shop, and eat in this thriving tourist town, saw some of the modern touches to this ancient city (to wit an inexplicable public structure dubbed 'the mushroom'), and wandered through the old tile-making area of the city, which is rapidly becoming a chic place to live, wine, and dine.
For me, the most memorable site in Seville was the Plaza de Toros, the bullring. I've never seen a bull fight (we missed one by just a few days), but simply sitting on a stone seat and taking in the scene before us was somehow magical. I had some of the same feeling as I did more than 60 years ago when I first entered Boston's Fenway Park and saw that wonderful 'temple' and its famed Green Monster wall.
While the massive Cathedral (built on the ruins of a former mosque) and the Alcazar (Royal Palace) were worthy of a bit of time, mostly we wandered through the various neighborhoods — the most interesting of which was the alluring old Jewish quarter —  mostly enjoying the narrow streets and white houses with flower boxes and grilled fronts.
And food was a highlight. For a fancy meal, we loved Oriza and its main dining room. But mostly, we found tapas bars, using our guide's recommendation to be sure the floors around the bars were dirty with napkins (because that's how you can distinguish a place where locals go from a place where tourists go). We stood at the bar at El Rinconcillo, the oldest tapas bar in Seville, for close to two hours, mostly soaking in the atmosphere, trying to get the attention of the 'waiters' behind the bar, and marveling at El Rincolncillo's unique way of keeping track of what you've eaten (in chalk on the bar).
And, despite the touristy nature of it (and our resistance to it because of that), we thoroughly enjoyed a 90-minute evening performance of flamenco dancing.
Cordoba: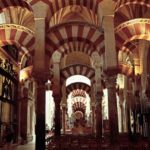 We took a 40 minute train ride from Seville to Cordoba for the day, primarily to see the historic part of this ancient capital.  We enjoyed wandering in the 'Jewish Quarter' with its winding, narrow ('kissing') streets and looking in on the colorful, tiled patios. As in most of the areas we visited in Andalusia, there are virtually no remnants of Jewish life.
But it was the Mesquita de Cordoba — The Mosque/Cathedral — that most entranced us. Unlike everywhere else in Spain, the Christians did not destroy this massive, columned mosque when they 'reconquered' Cordoba. Instead, they simply built a cathedral in the exact center of this enormous and unusual mosque. And thank God, so to speak, that they left most of the mosque alone. Even with Ellen's photographic skills and my writing, it is hard to capture, in picture or in words, this place. We have seen nothing like the Mesquita in all of our travels. Truly an architectural wonder.
Ronda and the hill towns of Andalusia: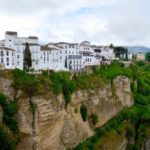 We spent a good part of one day driving from Seville through various hill towns and rich agricultural areas on our way to the cliff-side town of Ronda, where we stopped overnight before continuing on to Grenada. The countryside was lush and fertile and filled with olive trees. (Someone told us that 80% of Italy's olive oil comes from Spain.)
Ronda is in a mountainous area and in the center of Andalusia. The town is built on the side of an enormous cliff and above the Guadalevin River which divides the town in two. The most recent of the three bridges (Puento Nuevo) now connects the two parts of the town, which has become one of the more well-known hill towns of this part of Spain. It is also the home of Spain's oldest bullring, still in use twice a year. Although not as dramatic as the bullring in Seville, it was lovely (tho I suspect the bulls would disagree).
Grenada: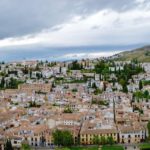 We left our car in a rental car park at a train station in Grenada — no one was around to accept the keys, but we assume that it was safely received — and spent the next three days walking through what became our favorite stop of this trip.
Sometimes with a guide, and more often on our own, we crisscrossed this ancient city, spending most of our time in the cobbled streets of the Albaicin, a former Moorish neighborhood that has retained some of its heritage, and most of a day at the Alhambra, a partially preserved fortress palace that is another historic monument that almost defies photographic and written description.** An UNESCO World Heritage site, it is a fortress that included, at one time, seven palaces, castles, residential neighborhoods, military housing, watch towers, and extensive gardens. One of the palaces remains and is stunning in its architecture and detailed decorative walls and ceilings. The Albhambra dominates the city, and from every angle is stunning to see.
And as everywhere else we were on this short trip, the food, largely tapas, was memorable. The tapas in Grenada is often free and meant to draw you into a bar, where you'll not only drink but also order more food. Los Diamentas and Bodegas Espadafor were two of our favorites. Both were filled with locals. The final night we ate at Restaurante Estrellas de San Nicholas where from the top of the Albacian we had a wonderful night time view of the Alhambra. Surprisingly, the food was almost as good as the remarkable view.
(** In being intimidated by the Alhambra, I'm in pretty good company when I say it is a difficult place to describe. Washington Irving wrote, ""How unworthy is my scribbling of the place." But I did read his Tales of the Alhambra (1832), a series of sketches, stories, tales, myths, descriptions, and observations of the Alhambra, where he spent part of year living in a room within one of the palaces. It's a good read, especially once you've been there.)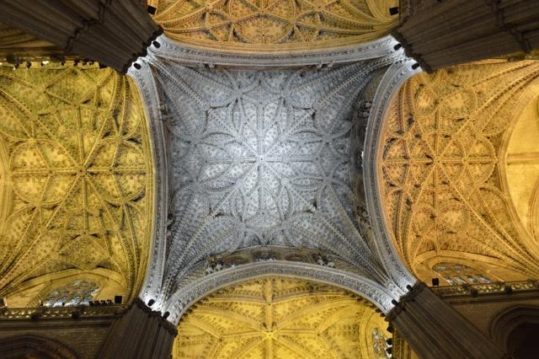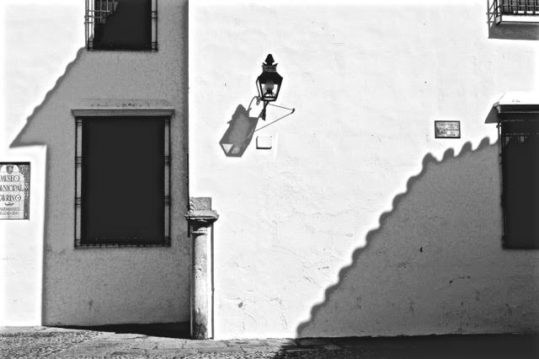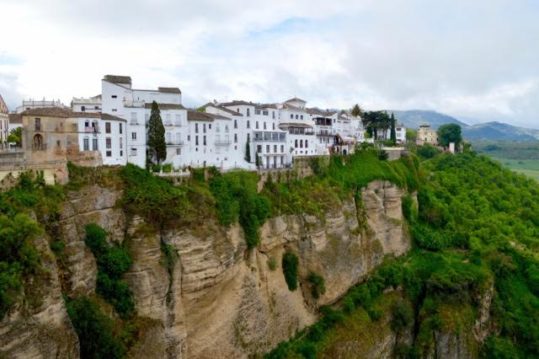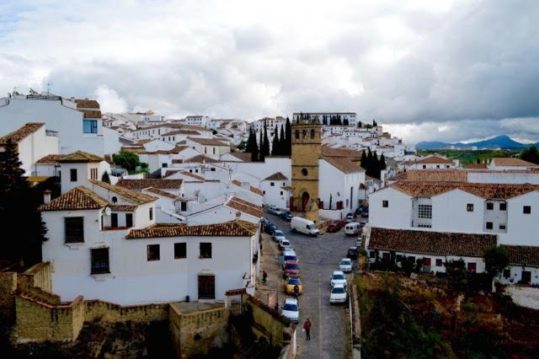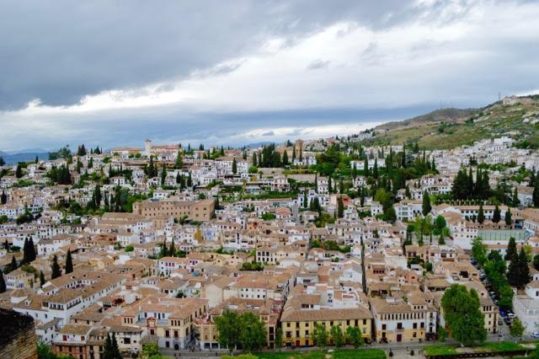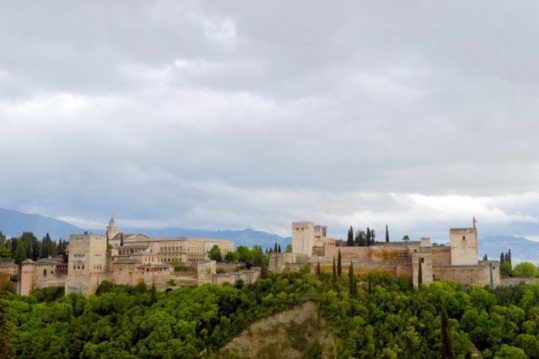 To see the entire slide show (68 photos), use this link: Andalusia: Thru Ellen's Lens.
For the best viewing, click on the little arrow at the top right of the first page of the link to start the slide show and see all the photos in the largest size possible (use a laptop or desktop computer if you have access to either).