Over the last week I have read Robert Caro's fourth book on Lyndon Johnson and attended a Politics & Prose bookstore "conversation' between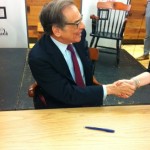 Caro and Politico's Chief White House correspondent Mike Allen. I thought the book (606 pages) truly worthy of my week's devotion to it. I enjoyed listening to Caro and getting a sense of the man, his humility, his solidity, and his insights, though I think Allen missed an opportunity to draw out Caro on many aspects of the book that deserved discussion.
If you definitely plan to tackle The Passage of Power, you need not read further than the end of this paragraph. Mark this site, and come back to it after you have read the book. Then read what is written below, and let me others know what you think.**
If you're not sure if you want to read the book, or if you just want to get a bit of a summary and one person's reactions, read the "Summary" and "10 Takeaways" below.
(If your time is limited, check out The New Yorker's excerpt of the day LBJ went from believing his political life was over to attaining the most power he ever had — Nov. 22, 1963.)