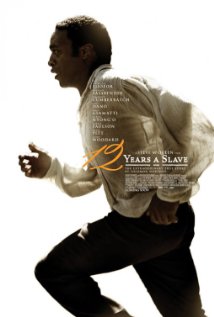 12 Years a Slave ****1/2
For some reason, this film has only had a limited release so far. Whether that's a marketing technique or a statement about the concern that there will not be a large audience for a film about slavery, I'm not sure.
But in the event that 12 Years a Slave, despite the almost universal praise by both critics and audiences who have seen it, doesn't stay around very long, put it on your 'to see' list now and find it.
Film critics: "The most powerful film I never want to see again" (Jeffrey Lyles), "12 Years a Slave is more than just one of the best movies of the year, it stands alongside Roots as a significant cinematic contribution to this country's never ending discussion about slavery" (Travis Hobson), "If the best films hold you in a captive vise, entertain you, keep you spellbound and teach something at the same time, then 12 Years a Slave is outstanding-brave, courageous and unforgettable" (Rex Reed), "The best picture of the year" (Roger Moore), "Easily the greatest feature film ever made about American slavery" (David Denby), and "12 Years a Slave is anything but easy to watch, but it is powerfully moving" (Bob Mondello).
I'm certainly not qualified to say this film is the best portrayal of slavery ever made. Nor am I unreservedly 'over the moon' about this film. But for me, it's one of the better films I've seen this year.
Briefly, it is the recounting of a true story, taken from an 1853 autobiography, of a free black man from the north who is tricked and sold into slavery in the south and who recounts the 12 years of horror as he transitions from being free to being without that freedom, to being physically and emotionally enslaved.
Directed by Steve McQueen (not that Steve McQueen but the British film maker) and co-written by McQueen and John Ridley, the film has outstanding performances by a number of actors and actress. Chiwetel Ejiofor as the enslaved Solomon Northup/renamed Platt is superb. Michael Fassbender is also 'wonderful' as the slave owner who controls Northup for nine years. Lupita Nyong'o, in her first major film, is a someone you will not forget. Other terrific performances include those of Paul Giamatti (briefly), Sarah Paulson, and Paul Dano.
Unlike some other films which are said to be 'based on a true story," 12 Years a Slave adheres, according to what I've been able to read, to the account written by Solomon Northup of his story. As such, the film gives us a point of view of someone who was free and then enslaved. I suspect McQueen has taken some liberties with Solomon's account, but I am hoping those are not significant.
In fact, I now have Northup's (or Northrup, depending upon whom you believe) book, which, along with Harriet Beecher Stowe's novel Uncle Tom's Cabin, was one of the more widely read books on the topic of slavery prior to the Civil War. Over the next few weeks I intend to read the autobiography and perhaps will write more about it and the film.
But whether or not you read the book, consider the film.
PS – If there are a half dozen of you who are willing to see the film and read the book, let's get together for another one of the Miller's 'Pop Up' book evenings sometime in the new year. Let me know if you're interested,