Tags
"Loving", "Manchester by the Sea", "Tampopo", "Toni Erdmann", Casey Affleck, Jeff Nichols, Joel Edgerton, Juzo Itami, Kenneth Lonergan, Lucas Hodges, Michelle Williams, Mildred Loving, Richard Loving, Ruth Negga
We're just about at the end of our 'to see' films for 2016, tho we have two remaining on our list (Elle and Lion) and one this Sunday in our film club.  After we see those, I'll list all we saw in 2016, along with our 'ratings' for those of you who may be interested in keeping track of films you might want to see.
In the meantime, here are four more we saw recently. Don't miss the first two.
Manchester by the Sea *****
We've been wanting to see this one ever since we missed it at the recent Philadelphia Film Festival. When I saw the previews, I wasn't sure I had missed much. How wrong I was.
There are so many good things about this film. The story is one that is told with an honesty and a realism that seem missing in many American films. It is about a man, Lee Chandler (Casey Affleck), who has cut himself off from most of the world and reduced his life to the bare minimum. You eventually learn why as the film develops and as he is unexpectedly pulled into having to take care of his 16-year old nephew.
Both Affleck and Lucas Hodges (his nephew) don't even seem as if they are acting. They simply have become the characters they portray. And the supporting cast, particularly Michelle Williams, is also wonderful.
The filmmaking is likewise terrific. Director Kenneth Lonergan lets the story develop in such a way that the audience is drawn in, not only by the story and the acting but also by the wonderful cinematography and his ability to capture a seaside town in Massachusetts.
In urging us to see it, SB wrote to say, "It's a film about redemption and love, it's subtle, it's acted with restraint.  The camera loves the sense of place. Often the images of the characters interacting tell the message without words.  When you discuss it after it's done, you see additional layers of meaning."
It's a good one, maybe one of the year's best.
Loving *****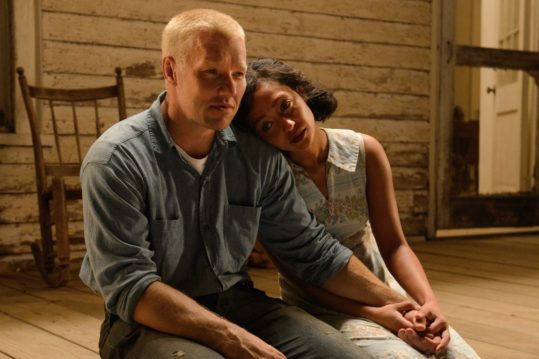 This film also tells its story without attempting to pound the viewer or to be a polemic. It's in some ways a small film about a big topic.
Based on a true story, Loving is about a quiet, unassuming rural Virginia couple (he is white, she is black) who are in love and marry in 1958. When the local authorities learn of the marriage, they arrest the couple and a judge gives them the choice of going to jail for violation of Virginia's law against mixed race marriage or to leave the state for 25 years.
The couple (Richard and Mildred Loving) move to DC and try to continue their life there. Eventually, their rural roots bring them home, and a court battle ensues about their right to be married. It reaches the Supreme Court, and they prevail (1968) as Virginia's anti-miscegenation law is struck down.
The Lovings' struggle to live as they have chosen and to confront the racial prejudice and laws of Virginia is not told as a big civil rights battle but simply as a quiet story about two quite ordinary people who are in love. He is a quiet, shy person who can't seem to understand what's wrong with marrying the person he loves. She is more vocal and expressive and because of her quiet strength (and some outside help), they take on a law and a system that today may seem strange to people who have never known a time when it wasn't possible for a mixed race couple to marry.
Ruth Negga is wonderful as Mildred, and Joel Edgerton captures who Richard must have been. Director Jeff Nichols has chosen to let the story of these two quiet, private people be told without hype or melodrama.
Quite unusual in this day and age.
Tampopo *** (Ellen – ****)
I'd been wanting to see this film ever since I read its description in the Philly Film Festival catalogue: Learn the art of noodle-soup-making and much more in the brand new 4K restoration of Juro Itami's classic 'raman western' comedy about two milk-truck drivers and a widowed restaurant owner's quest to perfect the craft. (Ever since recent trips to Vietnam and Japan, Ellen and I have been 'working' at making the perfect Pho and a decent burnt miso soup.)
While there were insights to perfecting this kind of soup making and eating – "Savor the aroma. Poke the pork, Noodles first." – I don't think I can recommend this film. Despite whatever attempts were made to update it, it feels a bit old and moldy.
Tampopo is actually about the Japanese obsession with food and particularly with the making of noodle soup. It's about two guys who take on the job of turning Tampopo (a widowed 'restaurant' owner) into the best raman noodle maker in the country. It's a bit of a spaghetti western (sorry) mixed with slapstick, verbal and physical showdowns, and some tender relationships that build along the way.
Basically, my recommendation is to take a soup making course (we did just that in Vietnam) or find the best raman restaurant in your area rather than spend the two hours necessary to see this film.
And if anyone has a recipe or knows how to make a burnt miso soup, please get in touch with us immediately.
Toni Erdmann *** (Ellen – *****)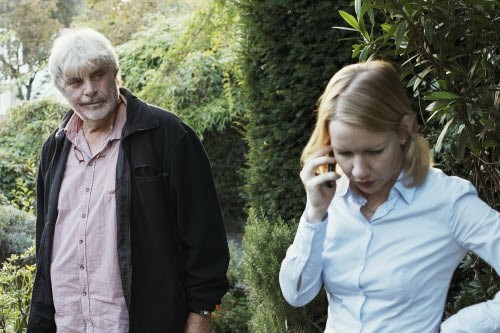 This film has been highly praised by critics and audiences alike.
But not so much for me.
The premise, the distance between a father and his adult daughter and his/their attempt to bridge that distance, is intriguing. But the pranks and weirdness of the father and the coldness and personality of the daughter were too much of a hurdle for me.
Ellen, however, saw it differently (see ratings above). Her take: "An unusual mixture of hilarious interactions that portray a touching and difficult relationship between the two. Great acting, narrative, and direction. It might not appeal to everyone as it's quirky, uncomfortable, and silly at times, but in the end, the more I think about it, the more I think about it."
Update: 12/18 – From our our Sunday Cinema Club: 52% rated it Excellent or Good, a fairly low rating. However, 72% would recommend it to others.