Fill the Void  ****1/2
The story told in this film is not particularly unusual.
After her older sister dies in childbirth, an 18 year old girl (Shira) is faced with a dilemma: does she accede to her family's wish for her to marry her brother-in-law and become the mother to her sister's baby, or does she resist and follow an inner voice that tells her not to do so?
There are other details and aspects to this story, which is a family drama as well as an individual one, that make Shira's decision a difficult one, but this coming of age story about a young woman being thrust into a dilemma not of her own making seems familiar.
What makes this film unusual is the setting and the skill with which the director lets the story slowly unfold (too slowly?). It takes place within a modern day Hassidic family and community living in Tel Aviv. There are no heroes and no real villains, and there is no attempt to portray this ultra-Orthodox family and its community in a particular light.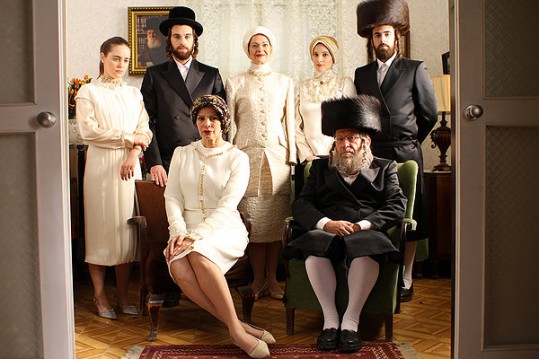 The audience is given a window into a way of life that is foreign to most of us yet has elements that are not foreign at all.
The acting is superb, particularly that of Hada Yaron (Shira) who won the Best Actress Award at the 2012 Venice Film Festival for her wonderful portrayal of a girl torn between family and self.  The entire cast is also quite good.
Fill the Void was written and directed by Rama Burshtein, a woman who knows the Hassidic world. She lives within that community and has given us a window into it without prejudice. She has also given us a film that is beautifully filmed and constructed.
You don't have to be Jewish to enjoy this film. You just have to like a good story, good acting, and good directing.
For me, the insight(s) Fill the Void gave me into a way of life about which I know very little and about a world rarely seen from the inside added to and made the film memorable. It reminded me of the Iranian film, A Separation, one of my favorite films from last year.
(For those of you living in the DC area, Fill the Void is currently being shown at the Landmark Bethesda Row Cinema and at AMC Lowes Shirlington 7.)