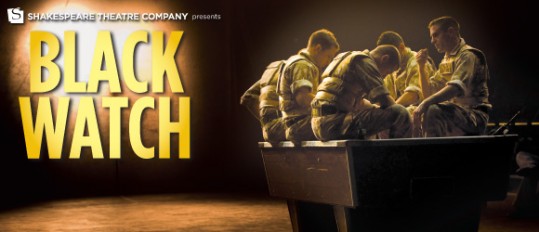 It's coming back.
Sept. 19 – Oct. 7.
At Washington, DC's Shakespeare Theatre, Sidney Harman Hall.
It will no doubt sell out quickly, as it did last time it was here.
Check out my mini-review Jan. 30, 2011,  or even better the NY Times & WaPo  reviews, linked to below.
Then go get tickets.
As part of its international tour, The National Theatre of Scotland's 2006 production of Black Watch is currently, but only briefly, playing at the Shakespeare Theatre's Sidney Harman Hall.

See it if you can…

It is a drama about the famous Scottish regiment, its history, its deployment in the war in Iraq, and the effect of the war on the soldiers both in Iraq and once they returned home.

The staging is a major part of the production, mixing music, dance, video, and much loud 'bombardment' of sounds of war.  The language is initially a bit hard to understand, but as the play develops, the words seem less important than the visual representation of what is happening and has happened to the individuals and to the regiment as a result of its time in Iraq.

To read NY Time's Ben Brantley's review of the production in NY in 2007, Click Here.

To read the Post's preview of the Shakespeare Theatre's presentation, Click Here.

Today the Post reviewed the current performance and 'waxed eloquently.' Click Here.
In addition to its Washington performances, Black Watch will be performed in other cities in the US, including Chicago, Seattle, and San Francisco.