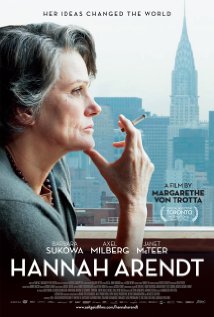 Hannah Arendt ****

One of the marks of a good film for me is when I leave the theater wanting to know more about something I have just seen.
Margarethe von Trotta's Hannah Arendt definitely meets that criteria.
I think I had been vaguely aware of Arendt, at least some recollection of the controversy about her coverage for The New Yorker of the Eichmann trial in Israel. But I had not read any of her writings.
Now I know more. Certainly much more about that period in her life but also about this writer, thinker, and political theorist.
Seeing the film sent me on a quest to find out more (see this link for a brief, 2500 word overview of her writing and her life). And I suspect I will read more about her and at least one of her books.
This film largely focuses on one period in Arendt's life, although there are flashbacks to earlier periods and references to other parts of her biography.
Barbara Sukowa is simply superb in her portrayal of Arendt, similar, I think, in the way that Daniel Day-Lewis was able to capture Abraham Lincoln in Steven Spielberg's film.
I suppose someone who knows more about Arendt and her writing might not be as enthusiastic as I am about this film or might have some questions about von Trotta's depiction of Arendt. But for a film about ideas to hold an audience almost spellbound for close to two hours is an achievement.
(My wife Ellen, who loves movies and is a pretty good judge of films, thought this one was the best film she's seen this year.)
*                    *                    *                   *                   *                 *
We also saw two other films over the long holiday weekend, neither of which makes it into my top categories (4-5 stars).  Frances Ha tells the story of a 27 year old NYC single woman who is trying to find her place in the world. The best part of this film is the performance of the lead actress Greta Gerwig.  And I wanted to like Renoir but ultimately felt it did not do what Hannah Arendt did (make me want to know more about the title character). But there is a good performance by Christa Theret as Renoir's model.