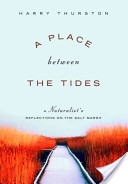 I am not interested in birds, fish, or salt marshes.
Well actually, eating fish and other sea animals is of interest. And one of my daughters got me interested in dolphins a number of years ago.  Plus I have enjoyed some occasional spying on colorful fish the few times I've gone snorkeling. But as species of general interest, I can go for long periods of time without thinking about what goes on in the underwater world of sea creatures.
As for birds, the expression "that's for the birds" amply fits my view about those winged creatures. I've never understood the fascination with 'birding' even tho some folks I like very much (and otherwise seem normal) are enthralled.
And I've never thought about salt marshes at all.
Which brings me to a book I've just finished that I want to recommend: A Place Between the Tides by Harry Thurston.
It's about all those things I mentioned above that didn't interest me.
Yet I was fascinated by Thurston memoirs and memories of what he has learned, experienced, and continues to observe where the land meets the sea in Nova Scotia.
A naturalist, Thurston has written extensively and prize winningly about the Atlantic Coast, the Bay of Funday, the Nature of Shorebirds, etc. In addition to being a biologist and a wonderful observer of life around him, he's a bit of a philosopher and a poet. He writes beautifully, and in spite of my prejudices about fish, birds, and salt marshes, his A Place Between the Tides was one of the most enjoyable (certainly one of the most informative) books I've read this summer.
The memoir was written in 2004 and details a year of life, his and his environment, on the banks of the Tidnish River in Nova Scotia. It is organized by months as he weaves what he sees, what he remembers seeing from when he was young (he's always lived near the sea), and what he knows about the birds, the fish, the salt marshes, animal behavior, and the interrelationships of all those things. It is also both a personal reflection on his life as well as an introduction to one part of Nova Scotia.
I  couldn't put the book down.