Tags
"It's terrible to want something you have no control over", "The Athletic", 2019 World Series, Astros, Houston Astros, Jason Stark, Millerstime, MillersTime: GoSox, Nats, Washington Nationals, World Series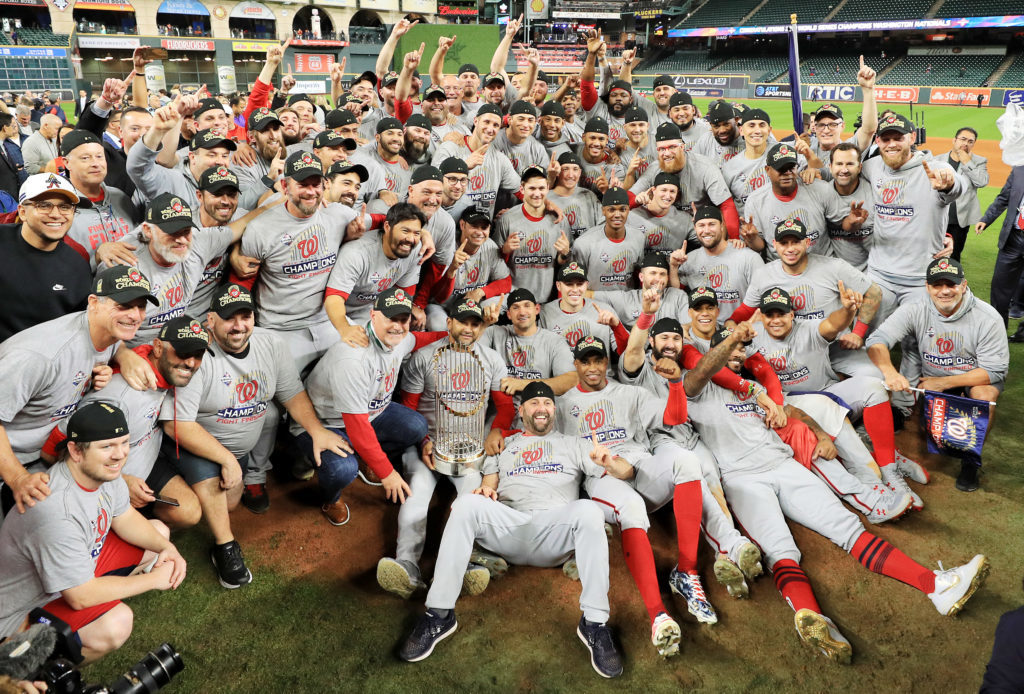 When I last posted on this topic of baseball – my beloved obsession forever (at least 70+ years), this life giving and taking, romantic, heart-breaking, exhilarating, logical and illogical, and occasionally magical game – I wrote about a dilemma, whether it was better for my grandson's learning if the Nats won or lost the final game of the 2019 World Series.
I knew, as FH reminded me in an email, that I had no choice in the game's outcome. But I was leaning towards the benefits to him of a loss.
Wisely, a number of you reminded me that he could learn from a victory as well as a defeat, although the lesson(s) would be different ones. (See these Comments from readers like Charlie, Tim, Janet, Brian, Hugh, etc.).
Even (even?) my son-in-law who hasn't even reached his mid-30s yet had some wise counsel:
"While exciting, I hope tonight isn't a pivotal moment in Eli's life. Win or lose, the lesson he should take is that when a champion is crowned, it is final. If it's the Astros, it isn't unfair, it's unfortunate (for him but not for the Houston version of Eli). If it's the Nationals, he will probably be happy, and he will go to school tomorrow with a nice memory. Hopefully, he learns to appreciate the ecstasy the champion feels and recognizes the hard work that was put into the accomplishment."
Plus, I had told Eli the moment the Nats had lost the third straight game in DC that " it's not over yet."
But I knew the Nats were now facing two hurdles, as a loss in either of the final games in Houston would mean the end of this dream. And in my heart and soul I thought the Astros would win. (It's hard to overcome the 'schooling' of being a Sox fan. Tho, I guess I may have forgotten the full lesson of that 'schooling,' – that when the win does comes, and it eventually will, it's an overwhelming joy.)
Hell, I even forgot, ignored (?), to some degree, what my then 21-year old daughter had written to me fifteen years ago and I had posted about lessons I had taught her about "never say never" and the importance of believing in miracles (more on that word below).
So as everyone everywhere now knows, the Nats did win that final game, coming from behind in the 7th inning, to complete a simply amazing series of comebacks and five months of truly extraordinary achievements.
I shoulda known.
I shoulda believed.
And for those of you who have a few more minutes to devote to this important topic, even if you've read, listened to, and talked about what the Nats achieved, I'm posting below an article that sums up how truly extraordinary what the Nats have done. It's written by Jason Stark in the The Athletic.
He writes that this was a truly magical event.
If you remove 'divine intervention' from the definition of magical and stick to simply supernatural, then I totally agree with Stark.
Actually, maybe there was some divine intervention. See what you think.
Do You believe in miracles? The highly unlikely tale of the 2019 World Series champions, by Jason Stark The Athletic, Oct. 31, 2019:
HOUSTON – Do you believe in miracles? You should. Here's all the proof you need that miracles happen in sports: The Washington Nationals just won the World Series. Just don't try to explain how. That's the miraculous part.
They just completed a journey unlike any that has been completed before. They just spent their season and their October doing things that no team has ever done. And then, for their final act – in a wild Game 7, on a shocking Wednesday evening in Houston – they won one more game they couldn't possibly win, which finished off one of the greatest upsets in the history of the World Series. That's all.
Do you believe in miracles? Well, when it's the seventh game of the World Series and you're getting one-hit in the seventh inning by a future Hall of Famer – against a 107-win juggernaut that needs just nine more outs to start comparing itself to the '27 Yankees – you don't need to consult the Win Probability charts to understand what a preposterous formula that is for winning that game, let alone that World Series.
But "preposterous" is actually an excellent way to describe the wild and crazy ride of the 2019 Nationals. So of course Anthony Rendon launched one more staggering home run into the Crawford Boxes in left, off Zack Greinke. And of course the apparently ageless Howie Kendrick then sliced a game-changing, Series-changing, life-changing home run off the foul pole in right. And of course the Nationals would perform their latest elimination-game magic trick and turn one more near-certain defeat into one more death-defying victory.
Because this is what they do. A little over four weeks ago, the Nationals were four outs from not even advancing past the wild card game. And now they're the champions of baseball. Because if ever there was a baseball team you just couldn't kill, this was it.
"OK, this is now the most 2019 Nats thing to ever happen," said reliever Sean Doolittle, as the champagne dripped from his championship goggles after one final 6-2 stunner of a win over the mighty Houston Astros.
For two weeks now, Doolittle has been spinning off variations of that quote, all while we've been carrying on a running dialogue about whether this team qualifies as miraculous. He instructed us at one point to come up with some sort of metric to determine what constituted a true miracle. Weighted Miracles Created Plus maybe? That sort of thing. That part of this project didn't go well. But Doolittle continued to weigh this heavy-duty topic.
I've been thinking a lot about this," he said – but he still wasn't sure, even as the champagne flowed. So we were forced to turn elsewhere. We then asked this team's hitting coach, Kevin Long, if he thought what this team has just done could be called a miracle.
"Yeah, I do," Long said instantly, then realized tears were welling in his eyes. "I'm going to get emotional. But the stuff and the things that these guys have overcome, it's truly amazing.
"I really do think this was a dream team," he said. "I really think this was one of the most amazing feats that any team has ever accomplished. If somebody had said that we'd beat the (2017) world champions in Houston tonight and they'd crown us world champions, I don't think anybody would believe that."
But there's no choice but to believe it now, because they've done what they've done. So why do we think it's safe to call these men the Miracle Nationals? It's our mission today to make that case to all of you. It's not as hard as you'd think.
The miracle of the elimination games
When we say that no team has had an October like the October of the 2019 Nationals, that's not an opinion. That's a fact. Let's lay out those facts for you now:
Other teams in baseball history have won five potential elimination games in one postseason. But the Nationals put a slightly different twist on that feat – because they trailed in all five of them at some point. And how many teams in history have ever come from behind to win five elimination games in the same postseason? That would be none, says STATS LLC.
That feat is miraculous enough, but now let's move along to the three winner-take-all games this team played. The Nationals trailed by two runs in the eighth inning of the wild card game against Milwaukee, with the fearsome Josh Hader on the mound. They trailed by two runs in the eighth inning of NLDS Game 5 in Los Angeles, with the great Clayton Kershaw on the mound. Then on Wednesday, they trailed by two in the seventh inning of this Game 7, with Greinke dialing up the most dominant postseason start of his life. So what happened? Yep. The Nationals roared back to win all three of those games.
So how many other teams have ever won three elimination games — let alone winner-take-all games — in one postseason after trailing by two runs or more in the seventh inning or later? How many do you think? There are no other teams that have done that, according to our friends from STATS. Ever. In fact, just one other team — the 1980 Phillies — has even won two potential elimination games like that.
We were down in the wild card game," Long said. "I mean, are you kidding me? We were down five times (in elimination games). Really? I can't say that enough. We were down in all these games late, and just continued to fight and come back and stay together. And the pitchers knew if they just stayed close, we'd find a way to win. And we certainly did."
The miracle of the World Series
Now let's think about the team the Nationals just beat in this World Series. The Astros won 107 games this year. That's the most in baseball. But even that doesn't adequately capture how good they were.
Teams like that don't lose the World Series. Teams like that normally dominate the World Series. But that isn't how this World Series turned out, is it?
Their powerhouse pitching staff had an Adjusted ERA-Plus of 127. Their deep, talented offense had an adjusted OPS-Plus of 119. That's nuts. Want to know how nuts? Over the last 100 years, there has been only one other team that had both an OPS-Plus and ERA-Plus of 119 or higher. That team was Babe Ruth's 1927 Yankees.
The Astros won 14 more games this season than the Nationals. And only two other teams in history ever had that large a win differential over the team they played in the World Series and didn't win it. One was Vic Wertz's 111-win 1954 Indians, who lost to Willie Mays' 97-win New York Giants. The other was Three Finger Brown's 116-win 1906 Cubs, who lost to Jiggs Donahue's 93-win White Sox.
So just based on the history, this goes down as one of the biggest World Series upsets of all time.
There's also the Vegas take on how large an upset it was:

Yet from the first inning of Game 1, the Nationals played like a team that never bought either of those narratives. And even after they lost Games 3-4-5 at home without ever leading for a single pitch, they still thought of themselves as 100 percent alive — because they never looked at the Astros as the unbeatable behemoth that Vegas thought they were.
"There was something going on," Doolittle said. "We totally felt it. We totally fed off it. We kind of thought coming into the series that the pressure was on them. We could tell right away from the questions that they got on Media Day, versus the questions we got on Media Day. There was a totally different vibe to those questions.
"They were getting asked, 'What are you gonna do after you win the World Series? What are you gonna buy?' And people were asking us, like: 'What does it mean to be in the first World Series ever in Nationals history?' And we were like, 'I don't know. It's cool. We're happy to be here.' So we were very aware that they were the team to beat and we were the biggest underdogs, according to Vegas, in the last — what? — 15 years? Something like that? But you know what Han Solo says: 'Never tell me the odds.'"
The road-field advantage miracle
The 2019 Astros didn't merely run up the best home record in baseball (60-21) this season. They were one of the most unbeatable teams at home in modern times.
In fact, in the nearly six decades since baseball went to a 162-game schedule, just four teams won more home games in any season than the Astros won this season:
| TEAM | WINS |
| --- | --- |
| 1961 Yankees | 65 |
| 1975 Reds | 64 |
| 1998 Yankees | 62 |
| 1962 Giants | 61 |
(Source – baseball-reference.com)
So just winning a World Series in which the Astros had home-field advantage would have been a sensational feat. But as you might have heard, that isn't all that happened, right? In a very weird World Series, in which the home team won zero games, the Nationals did something unheard of:
They became the first team in the history of any of the four major professional sports to win a championship by winning all four games of a best-of-seven series on the road. How many times did the Astros lose four in a row at home all season? Yessir. That would be never. In fact, they didn't lose four games at home over the course of the entire season to any team except the A's — who beat them four times, but needed 10 games in Houston to do it.
"Remember the other night, when I said after Game 5, 'Hey, we're just fine. The road team's winning every game?'" Doolittle said. "I was just joking. But hey, look at us now."
The "Fall of the Titans" miracle
Before the Nationals wiped out those 107-win Astros, they pulled another monumental upset — by beating the 106-win Dodgers in the NLDS. So who does that — wins a World Series by upending two teams that won at least 106 games in the same postseason? Nobody does that, naturally. Or at least nobody did it until now.
"We believed in ourselves from the beginning," said catcher Kurt Suzuki. "You know, everyone always says that to be the best, you've got to beat the best — and we beat 'em."
The miracle of 19-and-31
Back on May 23, the Nationals were 50 games into their season — and somehow found themselves 12 games under .500 (at 19-31), just like the Detroit Tigers. The Tigers went on to lose 114 games. The Nationals went on to win the World Series. You don't see that much.
OK, to be honest, you don't see that ever. No team in history had ever had that bad a record after 50 games and gone on to win a World Series. But the Nationals did. And only one team had ever been 12 games under (or more) at any point in any season and gone on to win a World Series. That, as you also might have heard, was Possum Whitted's 1914 Boston Braves – who have been known throughout history as the "Miracle" Braves.
So if there's only one other team that has followed this path and their nickname is "Miracle," doesn't that automatically qualify these Nationals as a miracle unto themselves? We'll get back to that in a moment.
What's more important than what we call it is how they did it. And they did it by reminding themselves, as they finally started to get healthy, that they were way too talented to be hanging out with the Marlins and Tigers in the standings.
The road back from 12 games under began with a team meeting, in a conference room off the clubhouse in late May. All the coaches and position players were there. The message from the veterans in the room was firm and clear.
Long's everlasting memory of that session: "I remember these guys saying, 'We can do this, and it will be the greatest accomplishment of our lives.'"
Maybe that resuscitation alone — from life after 19-31 to triumph in October — isn't enough to make you believe we should hang that "miracle" sign on this team. But now add in all of it — the elimination games, the upset of the Astros, the upset of the Dodgers, the four World Series victories in one of baseball's most intimidating environments — and think about this one more time.
Also remember that this is a franchise that had never won a single postseason series since moving to Washington. And remember that no team from Washington had won a World Series in 95 years.
So now add all that up. Has there ever been any World Series champion — any league, any town, any year — that did all of that on the road to the parade floats? You know that answer. That answer is: No way.
And even if you weren't sure about these guys before Wednesday, how could you have watched the final chapter in this story and not believed in this miracle?
Their starting pitcher, Max Scherzer, went from having to fall out of bed on Sunday to gutting his way through five innings Wednesday. That's not a miracle?
One minute on Wednesday, Greinke was making the Nationals' lineup look so overmatched that Long said that when he saw Gerrit Cole begin to throw lightly in the bullpen midway through the game, his reaction was: "'Please bring him in,' because that's how good Zack Grinke was."But next thing you knew, Rendon was lofting a Greinke changeup into the left-field seats, for just the Nationals' second hit of the day. And even that seemed like a miracle at the time.
"You know, momentum's tough to change," Long said. "And something like that really, really lifted everyone's spirits in the dugout. You could see it on the field. It was almost like those (Astros) said, 'Oh no. Here they come.'"
Yep. Here they came, all right. Juan Soto would walk to end Greinke's day. Kendrick would welcome Will Harris to the festivities with a what-just-happened two-run homer. And in a span of only eight pitches, the Nationals had gone from nearly dead to somehow leading. You mean that wasn't a miracle?
"I had a flashback — to the wild card game," Suzuki said. "I said, 'This seems kind of familiar.'"
They were eight pitches that changed a game and changed the World Series. But if they seemed miraculous to those on the outside, they seemed like business as usual for the Miracle Nationals.
"It was just fitting for our season," Suzuki said. "We've been playing elimination games since the middle of May. At least it feels like it. We had to fight for everything. So what a fitting way to end this season."
We understand that your definition of a miracle may be different from ours, or Sean Doolittle's, or Kevin Long's. So when we ask, one more time, if you believe in miracles, the answer doesn't really matter. What matters is that this somehow happened. In real life.
And so, on this one last crazy evening at the ballpark, it was the Washington Nationals standing on a makeshift podium in Houston, kissing their trophy and wiping away tears. It was all so powerful an experience that even they don't completely understand how everything it took to hoist that trophy was even possible.
"You know, I was just talking to a friend of mine," said right fielder Adam Eaton. "He was talking about all the things (that happened to us). He just went through, like, six or seven or eight different things. And when you hear them, it's like yeah, it's remarkable. If I was not here, I'd be home watching it. That's for darned sure."
"And if you weren't here, if you hadn't seen it and you hadn't lived it, would you believe it?" we asked.
"No," said Adam Eaton. "And that's why I'd be watching."
Good idea — because how can you believe in miracles unless you watch them with your very own eyes?
Well, guess what? We just did.