This post adds another reviewer, our dear friend Fruzsina Harsanyi, with whom we usually attend the Miami Film Festival. As we were unable to participate this year, Fruzsina kindly agreed to write about three of the films she (and her husband Ray) viewed and recommend.
Following that Ellen Miller reviews two films we've seen recently.
Reviewed by Fruzsina:
Miami Basel: Arts Winter Playground ****
If you have attended the world's biggest art fair for the past 15 years as we have, you would love this documentary. If you have not been in Miami since the 1990's when Miami's claim to fame was the Dolphins, Don Johnson, and drugs, you would be amazed by the cultural and architectural transformation that has taken place. This documentary vying for the audience award at the 2019 Miami International Film Festival argues that Art Basel was largely responsible for making it all happen.
Through interviews with collectors and gallerists and flashbacks to the years when Miami was a "cultural wasteland," the film shows us how people of vision and passion … and money, who love art could create an "ecosystem of philanthropy" to build museums, and support performing arts centers and arts education. Moreover, as the President and CEO of the Knight Foundation noted the goal was and is to build community through art, "to make art general in Miami."
We loved this movie because we love Miami Basel and what has happened to Miami. As a documentary, however, we were generous in giving it a 4 out of 5. We wish it had been less a commercial for Miami and more a deeper analysis of how the decision to bring the famous Swiss art fair to Miami came about. We know Miami's biggest car dealer, Norman Braman, was instrumental, but what about famous art families like the Rubells (who, the director says, didn't answer his phone call) or Marty Margulies. We wanted to know more about why people collect and how they decide. But maybe these are topics for another documentary.
Rattlesnakes *****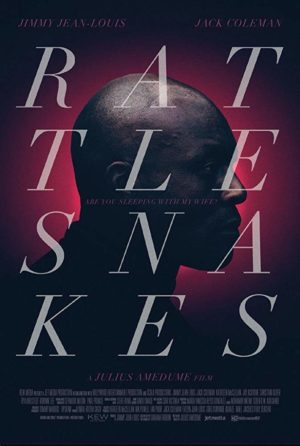 This riveting neo-noir psycho-thriller kept us on the edge of our seats for 82 minutes. Based on the play by Graham Farrow, it tells the story of Robert McQueen, a happily married man whose focus as a professional therapist is beautiful, unhappy wives. One day on the way to work, he is jumped by three masked men, the husbands of three of the women. They believe Robert is having sex with their wives, and they are out to punish him. The scenes become increasingly violent; the plot twists and turns. We see flashbacks that may or may not have happened; we think we have it figured out, and then we haven't. And why did a rattlesnake appear at the beginning and end of the movie?
During the discussion after the film, some said they wished it had been longer. Shot in just 12 days in Santa Barbara during the fires, director Julius Amedume said it was a marvel the film was made at all because he moved locations so many times to stay ahead of the flames. I, too, wish the film had been longer, but that was so I could look at beautiful Haitian-French lead actor Jimmy Jean Louis. I hope it comes to commercial theaters so I can see it again. Knowing the plot, I can then just concentrate on looking at Jimmy.
The Mustang *****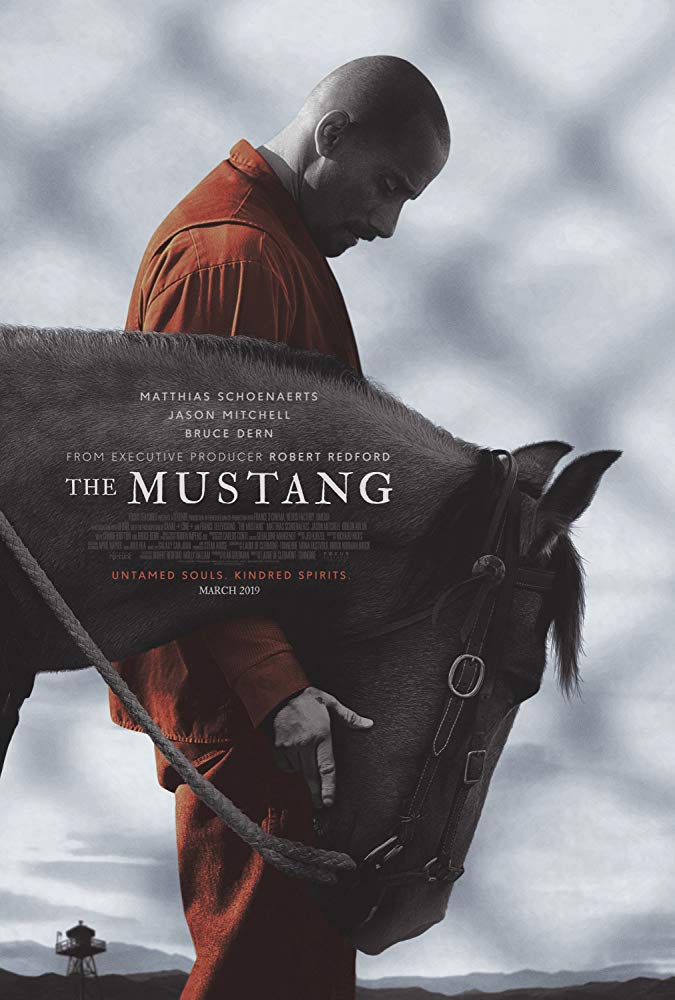 There have been so many movies about horses that it's hard to think of an emotion that hasn't been explored. Robert Redford as the trainer in the 1998 film The Horse Whisperer was unforgettable. Redford is back as executive producer of The Mustang directed by Laure de Clement-Tonnerre. This time the horse is a wild mustang, the trainer is now 82-year old Bruce Dern, and the lead is a convict played by Matthias Schoenaert (who played opposite Marie Cotillard in Rust and Bone and as Putin with Jennifer Lawrence in Red Sparrow).
This film is based on a true story about wild mustangs – 100,000 roam the American West – rounded up on federal lands and sent to prisons as part of a program to control their numbers by training them so they can be sold on auction or euthanized. The program also serves as therapy for the convicts who are selected as the trainers. One such convict, Coleman Roman, in solitary confinement for 12 years for a violent crime is assigned to work with a particularly ornery horse.
It's no surprise the he and the horse eventually bond and both are changed in the process: Coleman discovers his humanity and the horse his gentler nature. But how this unfolds is powerful and beautiful. Shot in a Nevada correctional institution, the movie is as much about the prisoners themselves, the brutality and boredom of everyday life in prison, and the fate of the horses as it is about the feel-good bonding of man and horse. We marveled at how a young, female director could get her arms around such a big story in a physically and emotionally rough location in order to give us a story to remember. The Mustang will be in movie theaters March 15.
** ** ** **
Reviewed by Ellen:
Never Look Away: Ellen ***** Richard *****
This Oscar nominated Best Foreign Language Film is gripping, stunning, and mesmerizing – all at the same time. It had so much going for it that its 3 hour 7 minute run time flew by. While it is loosely based on the life story of Gerhard Richeter (a German visual artist born in 1931 and widely regarded as one of the most important contemporary German artists), the story stands on its own as a testament to the development of a young artist, in extreme political times. These times also provide the context for not only his art but the protagonist's love and a father's cruelty towards humanity and his own daughter. Take a deep breath and relive some of the horrors of the Nazis and the Russians in East Germany in the 1940a, '50s, and '60s. The film will grab you, and you will 'never look away'.
The film covers a lot of different issues of those turbulent times. It opens with a galley tour of "degenerate art" (put together by the Nazi government) by the protagonist as a young boy and his Aunt. The film follows both the boy and his Aunt: hers to a Nazi inspired end, and his as a sign painter, a painter of Socialist inspired murals, and an art student. He meets his love, which is fraught with horrifying complications.
The film was stunningly acted and directed, the photography was subtle and magnificent, the acting was superb. This film was directed by Florian Henckel von Donnersmarck — best known for his masterful 2006 drama: The Lives of Others.
A.O Scott (NYT film critic) says it "hovers between psychological drama and period romance." Ann Hornaday (WaPo film critic) says, it's "nothing short of a moral reckoning." It's all this, and more.
The White Crow: Ellen ***** Richard ****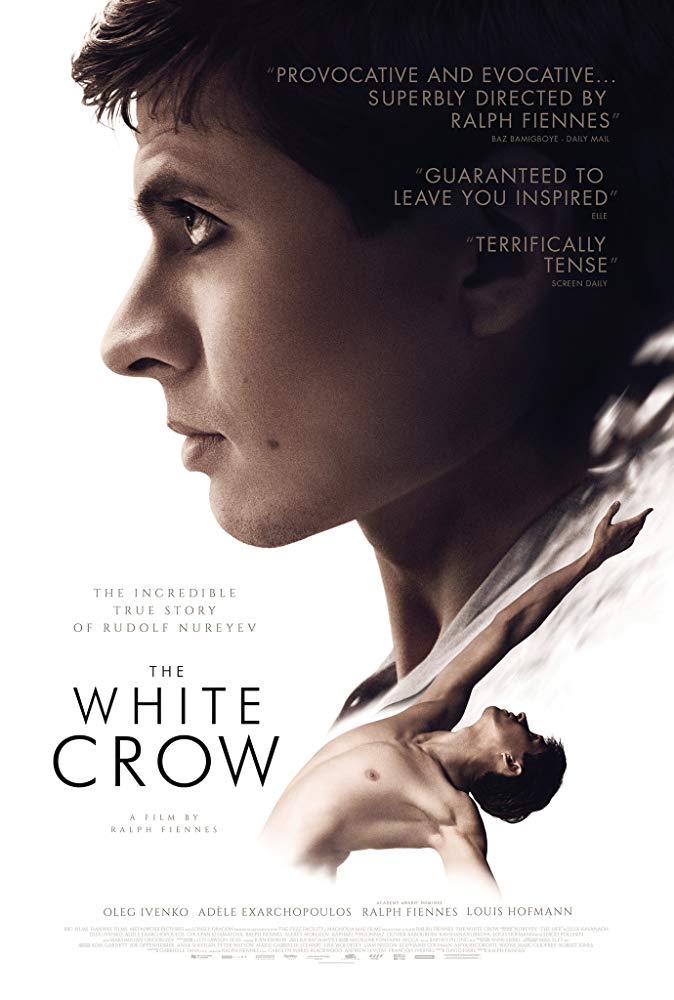 This film tells a remarkable, and true, story about the famous ballet dancer Rudolf Nureyev and his defection to the West from Russia.
The White Crow largely focuses on his life as a 22 year-old, a principal dancer with the Kirov Ballet who on his first trip out of Russia falls in love with the idea freedom and the good life. Through flashbacks to his childhood (cleverly photographed in black and white), and to his early life of professional training, you see the making of the man: an arrogant, thoughtless, self-confident braggart whose confidence in his art was only surpassed by his actual performance of it. This film does not hide his flaws.
The dancing and music, photography and acting (some by nonprofessional actors) of this film is as superb as is the drama of the world of ballet and escaping a totalitarian country under the watchful eyes of the KGB. The director of this movie is Ralph Fiennes who also plays a key-supporting role.
We saw this film in our Sunday DC Cinema Club, and it is not yet out in the theaters. Hopefully, it will make it and be available to a wider audience.
** ** ** **
Finally, if you missed Ellen's February mini-reviews of five films, be sure to check that out, particularly the highly recommended They Shall Not Grow Old.