Tags
Amy Tan, Andrew Sear Greer, Brad Graham, Children's Authors, Dave Eggers, David Shannon, DC Convention Center, Doris Kearns Goodwin, Erin Entrada Kelly, Isabel Allende, Jacqueline Woodson, James & Deborah Fallows, Jennifer Egan, Jewell Parker, Jon Meacham, Kate Di Camillo & Harry Bliss, Leigh Bardugo, Library of Congress, Lissa Muscatine, Louise Penny, Madeleine Albright, Mark Bowden, Matt de la Pena & Loren Long, Min Jin Lee, National Book Festival, Politics & Prose, Rachel & Nikki Russell, Ron Chernow & Steve Coll, Roxanne Gay, Sonia Sotomayor, Stuart Eizenstat, Tara Westover, Walter E. Washington Convention Center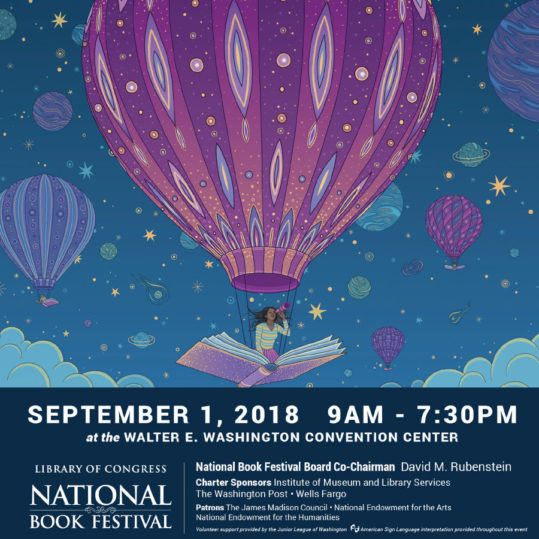 One of the delights of the end of summer in DC is the Library of Congress' National Book Festival. This full day of all things book related moved from the National Mall to the DC Convention Center several years ago, and so you can enjoy the many and varied activities indoors, with air-conditioning.
Once again our wonderful Politics & Prose Bookstore is the bookseller at the Festival, where you can purchase books and have them signed by their authors. (Note: Politics & Prose benefits from these sales so your purchases are another way to support this independent bookstore.)
As the Politics & Prose owners have posted on their website, here's a quick overview of some of the highlights of this Festival which is as good for children as for adults. Also, you can go to the website of the Festival for even more detailed information, including which authors are appearing and all the events and times Sept. 1 from 9AM – 7:30 PM.
From Politics & Prose's owners Brad Graham & Lissa Muscatine:
For book lovers, the National Book Festival has become an annual literary extravaganza, a star-studded, multi-stage show with authors and activities drawing people from near and far for a day of festivities in Washington. This year the festival returns to the Walter E. Washington Convention Center on Saturday, September 1, with Politics and Prose serving as the official bookseller for the fifth time.
Organized by the Library of Congress, the NBF has grown from humble origins 18 years ago—when a few dozen authors appeared in tents on the U.S. Capitol's East Lawn—into one of the largest events on the nation's literary calendar.
This year's gathering will offer talks by more than 100 authors, illustrators, and poets, spread among nine stages throughout the day. In addition to book signings, the festival features assorted programs for adults as well as kids, from story times to a poetry slam. Visitors to the Library of Congress exhibits will be able to meet Library staff, learn how to publish zines, and explore primary source materials. In the Parade of States, people can interact with representatives from all the states and a few U.S. territories and learn about the literary heritage of each state. Kids who collect stickers from all 52 states and territories represented at the festival will be entitled to pick up a prize at the Junior League of Washington table.
Before going to the signing lines, fans can purchase books by their favorite authors—as well as non-book items—in the sales area run by P&P. Dozens of our staff members will be on hand to answer questions and offer expert advice and book recommendations.
Here are some of the festival's featured authors:
Dave Eggers opens the main stage at 10 a.m. with a talk about his latest work, The Monk of Mokha, the true story of a young Yemeni American man, raised in San Francisco, who dreams of resurrecting the ancient art of Yemeni coffee but finds himself trapped in Sana'a by civil war. Joining Eggers will be the book's main subject, Mokhtar Alkhanshali.
Other writers scheduled for the main stage include Sonia Sotomayor, Madeleine Albright, Doris Kearns Goodwin, Jon Meacham, Isabel Allende, and Amy Tan.
The Fiction stage will offer Min Jin Lee (Pachinko) at 1 p.m., Andrew Sean Greer (Less) at 2 p.m., and Jennifer Egan (Manhattan Beach) at 4 p.m. On the Genre Fiction stage will be Roxane Gay (Black Panther: World of Wakanda) at 4:10 p.m., Leigh Bardugo (Crooked Kingdom) at 4:55 p.m., and Louise Penny (Glass Houses) at 6:45 p.m.
The History & Biography stage will showcase Stuart Eizenstat (President Carter: The White House Years) at 11 a.m., Ron Chernow (Grant) at 2 p.m., and Steve Coll (Directorate S) at 4:55 p.m. And the Understanding Our World stage will feature individual presentations by Mark Bowden (Hue 1968) at 11 a.m., Tara Westover (Educated) at noon, and James and Deborah Fallows (Our Towns) at 1 p.m., as well as panel discussions on sea creatures, border lives, monumental decisions, and America's struggle for racial equality.
For children, there will be two venues. The Purple stage will host David Shannon (Grow Up, David!) at 10:40 a.m., Matt de la Peña and Loren Long (Love) at 1 p.m. and Jacqueline Woodson (The Day You Begin and Harbor Me) at 1:35 p.m. The Green stage will present Kate Di Camillo and Harry Bliss (Good Rosie!) at 10:40 a.m., Rachel and Nikki Russell (Dork Diaries) at 12:25 p.m., Erin Entrada Kelly (Hello, Universe) at 1 p.m., and Jewell Parker Rhodes (Ghost Boys) at 3:20 p.m.
This is just a sampling of what the NBF will be offering. The festival will run from 8:30 a.m. to 7:30 p.m. and will be open to the public and free to everyone. For more information, please go to the NBF's website and start planning your visit now!
— Brad and Lissa