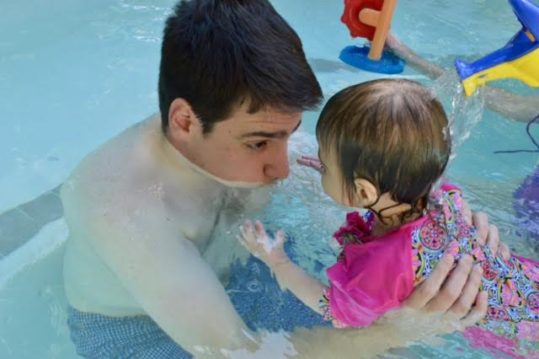 (Brandt and Samantha prior to their four day solo.)
Our 'second' son-in-law, Brandt, had the pleasure/duty to take care of our fourth grandchild (his first child) for almost four days by himself as our second daughter, his wife, was away for a long deserved break. I asked him to keep careful notes and to write something when and if he and she (Samantha) survived. (Note: Brandt's own parental unit and his siblings would readily say that child care is not exactly Brandt's primary strength.)
When the 'trial' was over, I received the following two photos from Brandt. The first is in our daughter's handwriting and so apparently must have been a reminder list for what to feed the young princess.
The second, apparently, is Brandt's record of how well he followed that list. (Note lower right hand crossouts).
When I asked for further information about how the weekend was, I received the following from Brandt:
Not sure what you have in store for the post, but here are my thoughts.  Feel free to post them or edit them or ignore them.

In February, I suggested that Elizabeth should find a weekend in May or June to go on a trip with her best friend, as it may be their last opportunity to do so for quite awhile.  I figured by May or June, I would be coached up enough to take care of Samantha on my own.  One weekend in April, I was solo with Samantha for an entire afternoon (4 hours!).  I checked my watch at one point to see that only 30 minutes of the 4 hours had passed.  If I can't make it through an afternoon; how was I going to make it an entire weekend!?

What I missed in my assessment of surviving the weekend is that I wasn't the one who needed coaching.  Samantha did.  And Elizabeth did a great job of making sure Samantha knew how to handle me.  She napped on schedule, ate on schedule, and was in a relatively good mood for the weekend.  Surprisingly, I never hid in the closet to avoid Samantha or seriously considered chartering a jet to get Elizabeth back to town.  Samantha's one meltdown and one nasty diaper were relatively unspectacular; I couldn't recall details now, a week later.

My lasting memory of the weekend was the final night when I was putting her down to sleep.  We were reading books, and I realized that this would probably be one of the few times that Samantha and I have a weekend together with just the two of us.  I tried telling her how special this weekend was to me, but she was far more interested in cuddling up with her sleep suit.  And so it goes.  Every parent has seemingly innocuous moments that their child has forgotten about, but he/she holds on to forever.  I'll just add that to my list.
And a few other photos of the princess:
Two from the 'solo' weekend: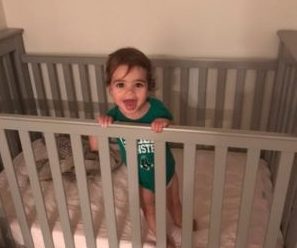 And an earlier one of father and daughter: