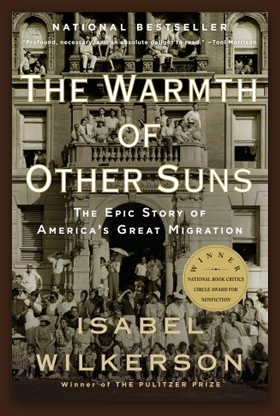 If Ellen hadn't continued to rave about this book, I would not have read it. The title, The Warmth of Other Suns: The Epic Story of America's Great Migration, by Isabel Wilkerson (2010), didn't seem to be something that would interest me.
Fortunately, I followed Ellen's advice and read and listened to the 640 page nonfiction story of the southern black migration to the Northeast, Midwest and West Coast. I couldn't put the book down. I found I was learning something on virtually every page I read.
The book covers the exodus and migration of six million blacks within our country between 1915 and 1970. In what was actually an 'internal migration' that had significant impacts on both where they came from and where they went, it is a story and a look at history that largely differs from what has previously been written about this movement out of the south and across the country.
In many ways Warmth of Other Suns reminded me of John Steinbeck's The Grapes of Wrath. As he told the story of the Joads, an 'Okie' family that left the Midwest because of the dust storms and 'moved' to California, he not only told their story but in what is called 'interchapters' explained the history of the times. Just as that book has stayed with me ever since I read it in school, Wilkerson's book will stay with me.
Wilkerson takes three individuals and follows them from their southern roots to their new homes, giving us an understanding of why these individuals needed to leave the Jim Crow south despite their families having lived there for generations. She follows them on their 'escape' by overground railway and, in one case by car, to their new homes. She then tells what happened to each of these three and their families over the next 50+ years of their life.
In preparation for writing Warmth of Other Suns, Wilkerson interviewed more than 1200 individuals before she settled on the three stories in this book. She traveled to each southern home, followed their paths north, and continued to interview the three individuals and their families for many years in their new homes. And similar to Steinbeck, she incorporates what she learned from the 1200 interviews as well as her exploration of census data, newspapers, historical records, etc. into 'interchapters' that put these three stories in context.
I'm not sure I'm qualified to agree or disagree with the NY Times about The Warmth of Other Suns being one of the best all time nonfiction books. However, it will certainly be at the top of my list of favorite reads in 2016.