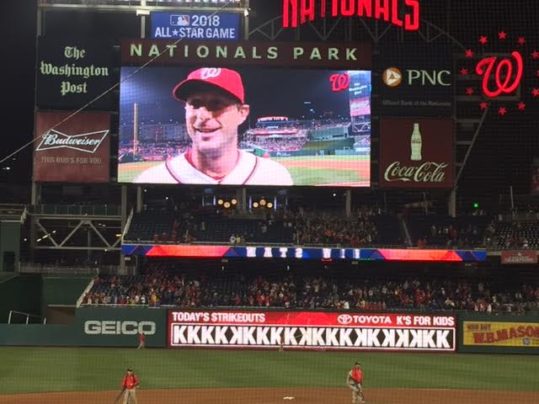 At every baseball game I attend I am looking to see something I have never seen before. Sometimes that's not such an easy task.
Last night, it was a no-brainer.
If you follow sports at all, and baseball in particular, you've already heard Max Scherzer, the Washington Nationals' $210 million dollar — for seven years —  pitcher, struck out 20 batters in nine innings, to become only the fourth pitcher in MLB history to accomplish that task (Roger Clemens did it twice, Randy Johnson and Kerry Wood did it once each).
I suspect the Nationals were pleased to fork over the million dollars ($30 million a year divided by 30 starts) for that performance. Scherzer had been having a not-too-good year prior to last night as his ERA going into the game against Detroit was 4.60 and his won-loss record was 3-2.
It was an evening I will not forget, especially since I am putting in writing what I saw. When Scherzer struck out his 17th batter, I turned to a fellow Nats' fan, Don, and said, "I once saw Pedro Martinez strike out 17 at Fenway years ago." (However, when I tried to confirm that Pedro had indeed done that, I couldn't find it in the records, although Pedro did strike out 17 Yankees once in Yankee Stadium.)
So much for the accuracy of my memory.
Anyway, here are some of the highlights from last night:
1st Inning: After getting the first batter to pop out, Scherzer strikes out the next two batters, including his friend Miguel Cabrera. Total: two strikeouts.
2nd Inning: Scherzer gives up a single to Victor Martinez and then strikes out the next three batters. Total: five strikeouts.
(Note: I mentioned to Don that Scherzer had already struck out five of the six batters he faced. But most fans didn't seem to focus on that yet as they were carefully watching former Nats' beloved pitcher Jordan Zimmermann return to Nationals' Park for the first time since he left the team this past winter. He got an enthusiastic standing ovation/reception and was even 'forced' to step out of the batter's box to acknowledge the well-earned applause and appreciation for what he accomplished while he was with the Nats.)
3rd Inning: Jose Inglesias, not one of the Tigers' better hitters, leads off the inning with a first pitch home run that just got over the left field wall. Scherzer then strikes out the next three batters. Total: eight strikeouts.
4th Inning: One strikeout, one ground out, and one fly out to right. Total: nine Ks.
5th Inning: Two strikeouts and a fly out: Total: 11 Ks.
6th Inning:  Ground out and two strikeouts: Total: 13 Ks.
7th Inning: Cabrera strikes out again, but then Victor Martinez singles and Justin Upton doubles. Men on second and third. Only one out. Score at this point, Nats 2, Tigers 1. Scherzer strikes out the next two batters to get out of the inning and preserve the lead. Total: 15 Ks.
(Note: Up to this point, Jordan Zimmermann and Scherzer were in a terrific pitchers' duel, despite all of Scherzer's strikeouts. Now with the Tigers threatening, Scherzer was at his best, 'easily' putting away James McCann and Justin Upton. In the bottom of the 7th, Danny Espinoza adds an insurance run with a home run off Jordan Zimmermann to make the score 3-1.)
8th Inning: Scherzer strikes out the side. Total: 18 Ks.
9th Inning: Lead off home run for J.D. Martinez. Score goes to 3-2. Cabrera strikes out for the third time on a 97 mph fastball before Victor Martinez singles and goes 3-4 on the night. Scherzer then gets Upton to strikeout swinging and ties the record for most strike outs in a nine-inning game. Two outs and James McCann up with Scherzer, the rest of the Nats, and the 35,695 fans cheering for him to break the record. After a first pitch strike, McCann weakly grounds out third to first.  Total: 20 Strikeouts.
(Note: Far from being disappointed, Scherzer pumps his fist and grins so every one of the 35,695 fans can see how pumped up he was and excited to beat his old team and get back on track, dropping his ERA from 4.60 to 4.15. Overlooked in the excitement of Scherzer's terrific game was Zimmermann's good performance, giving up three runs and seven hits over seven innings, dropping his ERA from 1.10 to 1.5, still far ahead of Scherzer for the season. Basically, Zim made one mistake, the home run pitch to Espinoza, which allowed the Nats to win 3-2.)
And a few other things of note:
**In his complete game outing, Scherzer threw an amazing 96 strikes out of his 119 pitches (80.6%) — significantly better than the other three pitchers who also have struck out 20 and a MLB record. Also, no walks and six hits over his nine innings.
**Eighteen of Scherzer's 20 strikeouts were swinging strikeouts. Kinsler, J.D. Martinez, Cabrera, McCann, and Gose all struck out three times. Victor Martinez got three hits and was the only Tiger batter who did not strike out.
**Scherzer had first strike pitches to 24 of the 33 batters he faced, a 72.3% rate.
**Scherzer now has defeated all 30 MLB teams. John Lackey is the only other active player to do that.
**Despite having Jonathan Papelbon warming up for the 9th inning, Nats' manager Dusty Baker chose to stick with Scherzer in the 9th, even after he gave up a lead off home run, making the score close to 3-2. It's doubtful Baker could've gotten Scherzer off the mound and out of the game in the 9th, at least not without the fans (and Scherzer) going bersek.
**Baker's moving Daniel Murphy to batting forth and dropping Ryan Zimmerman to fifth paid off as Murphy drove in two of the Nats' three runs, and would have had a third RBI if Harper had not been thrown out, on review, on an attempted steal. Murphy is now hitting .409 and no doubt better protects Harper from being walked than Zimmerman was able to do.
**Jason Werth's batting average dropped to .196 as he went 0-4 and left five men on base.
**Dusty Baker who has played in 2,039 games and managed 3,210, said, "That's the best pitching performance I've seen in person" — quite a complement for someone who has participated in a total of 5,249 games, witnessed numerous other games in addition, and is one of baseball's most astute observers of the game.
For those of you who were not privileged to be at the game, did not see it on TV, or watch any of the replay, you can see in a third of a minute, what Scherzer did. (Please bear with the 12 second ad at the beginning of the video below):
Scherzer's 20 Strikeouts in 20 Seconds
Oh. And why the "I Owe It All to My Grandson" headline of today's blog?
I went to the game with the expressed purpose of getting the MVP Byrce Harper Bobblehead giveaway for my seven-year old grandson.
Otherwise, I doubt I would have had the great pleasure of attending and witnessing Max Scherzer's wonderful performance last night.