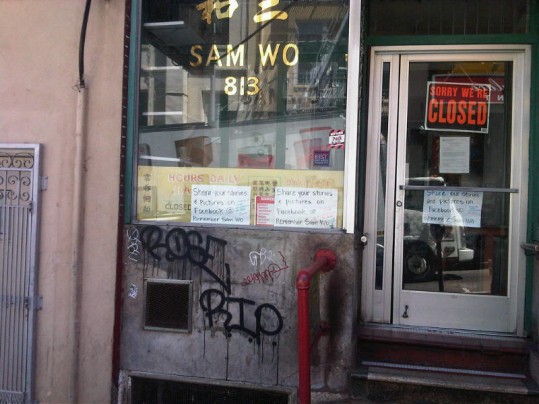 I regret to inform MillersTime readers that there will be no reopening of Sam Wo's at 813 Washington St. in SF's Chinatown.
Closed for health and building code violations in April 2012, negotiations have broken down between the owners of the building and the owners of Sam Wo's over the cost ($300,000) to satisfy the necessary repairs. As a result, Julie Ho announced on her Facebook page that the 100+ year's of Sam Wo's rental of 813 Washington St. has come to an end. The restaurant will not reopen at that site.
It is possible, however, that the restaurant could reopen at a different location in SF's Chinatown, tho that is not at all certain.  Julie Ho is apparently searching for a new location in the same neighborhood.
But for those of you, us, who have known this narrow, this three story 'hole in the wall' (?) where 'diners' entered through the kitchen and climbed to the second or third floor for inexpensive and satisfying Chinese food, it's all over. No more food delivered on a rope pulled dumbwaiter. No more insults from the world's rudest waiter (actually, he's been gone a long time). No more two AM comfort food.
(To read more about Sam Wo's, it's history, the people who owned it, worked there, ate there, the attempts to keep it open, etc., check out this four minute YouTube video.)