April 22, 2013.
Several months ago a movie critic described to some of us who were spending an evening together how she approaches reviewing movies.  She said she tries to think about films using three points: what was the artist trying to do, how well did he/she do it, and was it worth doing?
That was eye opening (mind opening?) for me as I usually just react to what I've seen by thinking about what I liked or didn't like. While I can't say I've totally changed how I approach thinking about the many movies I see, I have been using her categories to expand my response to what I am seeing.
I also began to wonder about my reading and my reactions to what I read, as I spend a good deal of time with books (in one form or another). In fact, I signed up for a two hour talk and discussion at our wonderful, local bookstore, Politics & Prose with Pulitzer Prize winning critic Michael Dirda on "How to Read a Book" (I'll write about what I learn after the 'course').
And I began to think about reading vs rereading, which brings me to Vladimir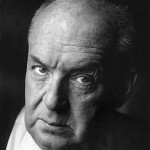 Nabokov, whose birthday happens to be today. The Russian writer (Lolita and Speak, Memory, etc.) talks about what makes a good reader (Lectures on Literature):
Incidentally, I use the word 'reader' very loosely. Curiously enough, one cannot read a book: one can only reread it. A good reader, a major reader, an active and creative reader is a rereader. And I shall tell you why. When we read a book for the first time the very process of laboriously moving our eyes from left to right, line after line, page after page, this complicated physical work upon the book, the very process of learning in terms of space and time what the book is about, this stands between us and artistic appreciation. When we look at a painting we do not have to move our eyes in a special way even if, as in a book, the picture contains elements of depth and development. The element of time does not really enter in a first contact with a painting. In reading a book, we must have time to acquaint ourselves with it. We have no physical organ (as we have the eye in regard to a painting) that takes in the whole picture and then can enjoy its details. But at a second, or third, or fourth reading we do, in a sense, behave towards a book as we do towards a painting. However, let us not confuse the physical eye, that monstrous masterpiece of evolution, with the mind, an even more monstrous achievement. A book, no matter what it is—a work of fiction or a work of science (the boundary line between the two is not as clear as is generally believed)—a book of fiction appeals first of all to the mind. The mind, the brain, the top of the tingling spine, is, or should be, the only instrument used upon a book.
If what Nabokov says is accurate, do I have to go back and reread all those books in my library? Some of them? A few?
Thus, this post with a question to those of you who do read a good deal (and there are many of you as 70 readers submitted titles this year for the The Books Most Enjoyed by MillersTime Readers in 2012.)
So,
Do you reread books?
And if you do, then these questions:
Does your rereading significantly change your view of what you read the first time?
In what ways?
How do you decide which books you reread?
I am hoping some of you will respond in the Comments section below or send me an email about these questions (let me know if I can post that email so others can benefit from it too).
Maybe we can get a bit of a dialogue going.