The main reason I can think of to recommend a few days in Lima, Peru (other than if one's spouse has a speaking engagement there) is to enjoy the marvelous food 'revolution' that has taken over that city.
Ask a dozen individuals who either live in Lima or know it well for the name of their favorite restaurant, and I bet you'll get 12 different recommendations, or at least 10 different ones.
We had three outstanding meals and two other good ones over a period of four days.
Put these three restaurants on a list for when you find yourself in Lima:  Central (beware the Pisco Sours – they're strong and two will loosen your tongue, etc.), Astrid & Gaston (try the tasting menu), and Chez Wong (see below).  You will be stunned by the presentations and even more by the tastes of what you are served. You can't go wrong with any of these three expensive but memorable restaurants.
One of the three, however, is so unusual and so outstanding that if you are in Lima and do not go there, consider yourself to have made an horrendous mistake.
Based on the recommendation of a friend who knows good food, we had a lunch reservation at Chez Wong. When our taxi driver entered an unfashionable neighborhood and pulled up to the address we had given him, we were sure he had made a mistake.
Chez Wong, in the Santa Catalina section of Lima, is indeed in the house of it's chef, Javier Wong. There is no sign on the gate or on the front of the house, one of several unpretentious houses in a row of houses off a main street. Once we determined we were in fact at the right place, we had no idea what we were about to experience.
Up a small flight of stairs, we entered a nondescript, ten table ordinary looking room whose walls were covered with pictures of its well known chef and various awards he and his restaurant had earned. Once it was determined that we had a reservation (there was only one other table occupied when we arrived), we were seated near the front of the room, near the 'prep area' and the 'kitchen.'
There are no menus at Chez Wong. We were asked if we wanted octopus along with our flounder* in our cebiche. We opted for just the fish, and thus began an event and a meal we will long remember.
Javier Wong entered, from what I gather is the main part of his house. He went to a very small prep area with an adjacent wok (he terms it his "one square meter"). From under the counter he took out a flat fish (the waiter called it flounder, but it may have been sole). In less than four minutes, he had removed the fleshy white part of half the fish, diced it, mixed it with freshly sliced red onion, just squeezed lemon (from Chulucanas I learned later), salt and pepper and put it on two plates (one for us and one for the other diners), along with some Limo chili on the side.
We then had what is undeniably the freshest cebiche/ceviche we had ever eaten. It was also the simplest, the most flavorful, and unlike any of the other we had eaten in Lima. Trust me on this one: once you have had cebiche at Chez Wong's, all other variations of this national dish of Peru will pale by comparison.
Then we were asked if we had any allergies or problems with nuts (we communicated with the help of the third diner who had just arrived and could speak a bit of English).
Javier took the remainder of the fish he had carved for the cebiche, flipped it over, and quickly filleted the remaining fish. Cutting it into sashimi pieces, he added Chinese onion, sesame oil, pecans, tangerine peel, lemon juice, salt and pepper.
The waiter brought this second dish the four steps from the prep area to our table, and we were again treated to wonderfully fresh, flavorful tastes that are hard to describe. In a flash, we finished this dish, amazed at the wonder of it and at the difference from the previous offering.
With no further questions or discussion from the waiter, Javier whipped out another flat fish, carved and diced several filets, added what I think were pineapple chunks, perhaps a Chinese vegetable, garlic, various sauces and stepped three paces behind to a single, large wok, heated by a canister of gas. With a high flame that at times surrounded and entered the wok, Javier put his entire mixture of food into the wok. Within two minutes, his waiter came the ten steps from the wok to serve us our third marvelous dish. (My father long ago told me that the only way to truly eat good food was to be within ten paces of where it was prepared).
We were full, but when the waiter 'asked' if we wanted another dish, how could we say anything but "Yes"? The other diners had given up by this point, but we knew we wouldn't be back any time soon (tho as I write this, I'm wondering how we can stop in Lima on our next trip to South America).
Again, Javier brought out the fish that had provided the just cooked, wonderful dish, flipped it over, filleted it, diced it, added another Chinese green vegetable, red onions, perhaps mushrooms or dehydrated potatoes, various spices and sauces (Ellen read later he added Pisco and Coca Cola!). Again, he threw this mixture into the very high flamed wok, and two minutes later (and the same ten paces), we had our fourth version of Javier Wong's masterful cooking.
Four dishes, two cold ones, two hot ones, all with similar ingredients, all simply prepared, all with different tastes.
I looked longingly at Ellen for her views on trying one more dish. But I got that look she can give when she wants to dismiss what she clearly thinks is my foolishness.
Oh well. She was probably right. We would have just gotten a fifth example of Javier's genius and artistry, for that is what he is and does. Without exaggeration, his cooking is an art form, based on the freshest of ingredients, simply prepared, uniquely flavored and using just a knife, a wok, a ladle, and one square meter of space.
Chez Wong was and will remain among our most memorable restaurants and meals.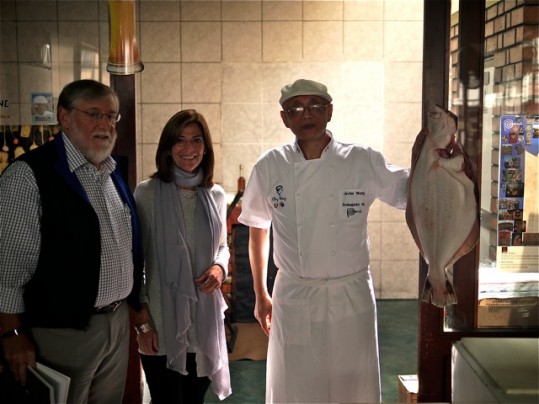 (*The waiter called the fish 'flounder' but the excellent and informative book we bought, and Javier signed,
refers to it as 'sole.' My limited knowledge and research say these two fish are "completely different species, although superficially, quite similar to look at. Both are saltwater 'flat' fish that are frequently found in estuaries. Both are prized as a food fish, with Sole being the fish of choice. Typically, flounders tend to be more circular in shape (and heavier), whilst sole tend more towards an oval shape.")