While I await my wife Ellen's OK to post some of her newest photographs, this time from Nova Scotia, I thought I'd post a couple of pictures I took of her 'at work.'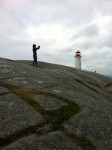 From an advanced glance at some of her Nova Scotia pix, you are in for some wonderful pictures.
Be forewarned, however: her photographs may bear no resemblance to the reality of Nova Scotia. They're even better.