or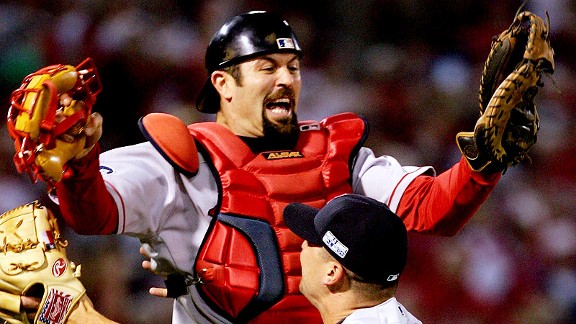 Who's the best?
Sammy White?
Carlton Fisk?
Jason Varitek?
These are the three Red Sox catchers who have been a part of my life since my wonderful grandfather, Pappy, introduced me to the pain and joy of being a Sox fan.
There were others. When I was just learning about baseball, Bernie Tebbits was just finishing his career.
After Sammy White, there was Bob Tillman and a few others I don't remember.
After Carlton Fisk (what a heartbreak when he left), there was Rich Gedman and Tony Pena.
But none of these were in the category of White, Fisk, and Varitek.
I loved Sammy White. Maybe because I was young, and he was my first. He caught from 1951-59, was a solid defensive catcher with a good arm, and once scored three runs in one inning ('53 vs. Detroit). He could throw out runners and was a decent hitter. A solid, stable part of the Sox in the 50s.
Everyone who followed baseball in the '70s (and '80s too, tho he was no longer with the Sox) knows Carlton Fisk. He was Rookie of the Year and won a Golden Glove in '72, and he just kept getting better from there on.
As the picture above captures (it sits in my little baseball shrine in my house), he kept the Sox alive in the '75 World Series with the 12th inning home run he willed over the fence.
Fisk could do it all, catch, throw out runners (not as good as White, tho), hit, play whether hurt or not, (all time record for games played by a catcher, 2,226), and he was always a leader.
In 2000 he went into the Hall of Fame, probably as one of the best catchers of all time (after Berra, Bench, Campenella, Piazza, Rodriquez ?), tho not as a Red Sox unfortunately.
And then came my favorite, Jason Varitek.
You've no doubt seen clips from his retirement press conference, endless replays of his 'fight' with A-Rod, and various tributes to his career.
Varitek was a pitcher's catcher. He prepared harder for every game than anyone, according to his teammates. He knew what pitch should be thrown when (ask Schilling who lost a no-hitter with two outs in the 9th because he shook off Varitek).
'Tek was a good defensive catcher, tho the weaker than White or Fisk in throwing out runners. But his knowledge of opposing batters, the comfort he gave to his pitchers, and his gritty play more than made up for his weak arm to second.
The Sox made him Captain a number of years ago, and while he proudly wore the "C" on his shirt, the game was never about him. He kept his head down, ran to put on his gear after hitting a home run, and quietly became the most respected player on the team by the other Sox players, management, and fans.
I chose not to post the picture of him with his glove in A-Rod's face because while that may have spurred the Sox on that year, there were other accomplishments much more worthy of honoring.
The Sox won two World Series under his leadership (the pix above is after the final out of 2004 — I was there for that one as well as for the one in 2007), and he caught four no-hitters, the most of any catcher ever.
He played his entire career with Boston, and when he began to lose his skills, he worked with his replacements, teaching them what he had learned and continuing to give of himself.
For me he was what is best about baseball.
But I know others would say Fisk was better.
What do you think?