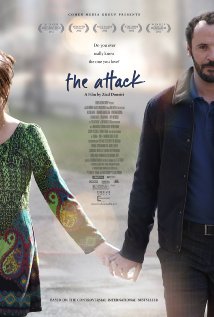 The Attack ****
It's difficult to review a film after one has read the book first.
Or maybe it's more accurate to say that I have a hard time doing so.
Know that my prejudice is that most often a book is better than a movie taken from the book. I can't think of more than a handful of movies that I thought were equal to or better than the book.
Probably reading a book first significantly changes how one experiences the film. Not only does one know how the book presented its story and its outcome, but the viewer is also constantly comparing the two, rather than approaching the movie with an open mind.
Thus, my conundrum in discussing Ziad Doueiri's film, The Attack.