The Kid with a Bike ****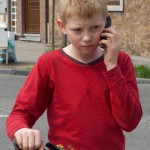 Another good foreign film, another one in French with subtitles, another one which offers some hope amidst times and circumstances that are troublesome (See Le Havre, Monsieur Lahzar).,
This one is about an 11 year old boy, Cyril, who has been abandoned by his father and misses him terribly. Living in a children's home, Cyril desperately wants to find his father. While searching for his father, he literally runs into a kindly young woman, Samantha, who decides to try to help.
The 88-minute film traces Cyril's search for his father and the growing relationship he has with Samantha. So as not to spoil the film, I'll refrain from outlining what happens, but the boy and his bike and the woman who is helping him become individuals you will not easily forget.
(Note, wife Ellen did not like The Boy with a Bike as much as I did, but the film was the winner of the Grand Jury Prize ag Cannes and a Golden Globe nominee for Best Foreign Language Film.)

Hermano *****
This Venezuelan film may be the best film we've seen this year in our Sunday morning Cinema Club. Maybe the best we've seen anywhere so far this year.
It's the story of two brothers raised in the barrios of La Ceniza. The younger brother, Daniel, "Gato," was found and rescued by Julio and Julio's mother. Then raised as brothers, Gato and Julio become inseparable. They also become rising soccer stars and are presented with the opportunity to play professional soccer. What happens then I will leave to when you see the film.
There are so many good aspects to this film, the acting, which almost doesn't seem like acting, the filming, which while slightly jarring to some folks, I thought was superb, music that adds another layer of interest, and a story line that is much more than the usual sports as a metaphor for life film.
The film has not been shown yet in this country but has won some prizes outside of the US. It will be shown here, opening within the next couple of months after several benefit performances around the country.
Do put it on your list to see.
——————————————————————————————————————————

Monsieur Lahzar, which I reviewed earlier, got a rating of 100% (good or excellent) from our film club when we saw it several weeks ago. Apparently that high a rating has only happened one other time in the 20 years of the movie club ("The Piano" was the other one.). It opens in Washington April 27th.