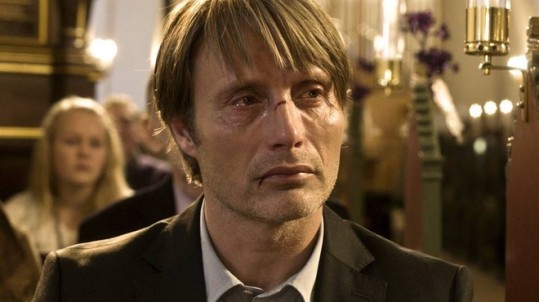 The Hunt *****, the film shown at our Sunday Cinema Club yesterday, is not due to be released nationally until August, 2013.
If you keep a calendar, mark it and keep your eyes open for this film. I don't know how widely it will be shown as it's a Danish film with subtitles, not a prime candidate for the big movie houses. But it's worth searching out.
Mads Mikkelsen, the "Tom Hanks' of Denmark, according to Bob Mondello who spoke after the film was shown Sunday, won the Best Actor at the 2012 Cannes Film Festival. He's simply terrific as Lucas in The Hunt.
But then so is Annika Wedderkopp, the very young actress who plays the role of Klara, a five year old who unleashes a storm of controversy in a small town and then is caught up in the witch-hunt that ensues.
And these are only two of the half-dozen to dozen actors and actresses who keep you enthralled.
You might note that I have not said much about the plot of The Hunt. Purposively.
The Hunt is a film to see without knowing too much about it. Simply, it is the story of a man whose life is in the process of being destroyed by a lie.
Written by Tobias Lindholm and Thomas Vinterberg and directed by Vinterberg, the film moves along quickly and absorbs you.
*                         *                          *                         *                       *
The members of the DC Cinema Club gave last month's film, Twenty Feet From Stardom, a rating of 94.3% (Excellent-61% and Good 33%). They also gave it a Recommend rating of 97.1%.
Also, The Hunt is the third Danish film we've seen this year that has been simply outstanding. The other two were A Royal Affair and A Hijacking, each mini-reviewed on MillersTime previously. Those folks are doing something right.
It will definitely be on my Best of 2013 List.
And maybe let's do a Miller's dinner and chat about the film after it comes out. Let me know if you're interested.