Tags
Boston, Boston Red Sox, David Ortiz, Dustin Pedroia, Evan Longoria, Evan Somma, Fenway Park, grandfathers, grandsons, Green Monster, Hanley Ramirez, Hotel Commonwealth, Landsdowne Street, Mookie Betts, Rays, Red Sox Team Store, Sox, Tampa Bay Rays, Ted Williams, Yawkee Way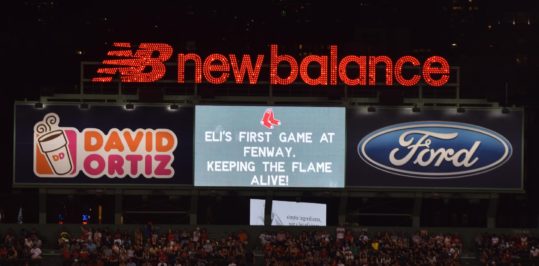 This trip to Boston and Fenway Park with my seven year old grandson Eli was not my idea.
You may not believe that, but you can check with his parents (my daughter and son-in-law), and they will confirm that Eli raised the idea with them, asking, "When is GrandPapa going to take me to see Fenway Park?"
It is true that I had introduced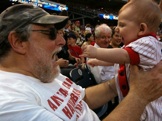 him to baseball with a trip to see the Washington Nationals when he was seven months old. And it's true I talk endlessly about the Red Sox around him, and we did complete a 500 (or was it 1,000 ?) piece jigsaw puzzle of Fenway Park.
But it's also true he has become a Nats' fan first, and the Sox are only his second favorite team.
I don't care about that. I just love having him sit in my lap and talking nonstop to him at any game about what we're seeing.
And tradition's important in my life and in our family. So, of course, I needed to take him to Boston.
Background: At least 60 years ago, probably closer to 65 years, my grandfather took me to Fenway Park and introduced me to that temple and to what became my obsession with the Sox. In fact, the best week of every year for me was when school let out in June in Florida where I lived at the time, I'd go to Boston for a week prior to going to camp in New England. Pappy would take me to Fenway for batting practice before the game. He had wonderful seats a few rows behind the Sox dugout. And as I 'remember' it, sometimes players would say to him, "Pops, where were you last night? You weren't here." That's pretty heady stuff for a 7-10 year old, especially when it was likes of Ted Williams, Dom DiMaggio, Johnny Pesky, Billy Goodman, Jimmy Piersall, etc. who would be talking to my grandfather.
(Aside 1: My sister recently reminded me that on one of those early trips I held a ball out to Ted Williams when I was at Fenway with Pappy, and the Splendid Splinter refused to sign it. Somehow, I got over that disappointment and have admired Williams' ability to hit a baseball all my life.)
(Aside 2: I had good practice for the trip with Eli. Ask either of my daughters, who attended many games with me in Boston, some even voluntarily. And if you haven't  read this email that my daughter Beth/Elizabeth wrote the night the Sox won the World Series in 2004, stop now and check it out.)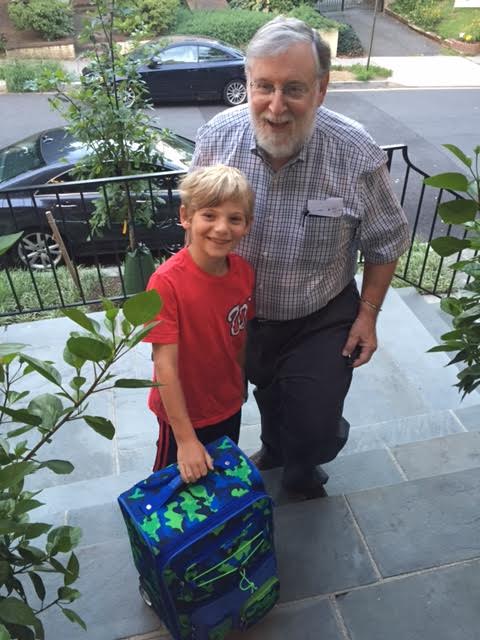 Thus, with no reluctance and a good deal of advanced planning, Eli spent the night with us last Monday so we could catch an early flight to Boston on Tuesday. I had arranged a room at the Commonwealth Hotel, which has recently added rooms overlooking the back of Fenway and the Green Monster. Additionally, I got seats for two games, one directly behind home plate, just below the press box, and those tickets came with access to the field for batting practice and time up in the Green Monsters seats. For the second game, I got seats as close to where Pappy had his seats 65 years ago behind the Sox dugout.
(Aside 3: When I told Eli we were going to sit where my grandfather had taken me for my first trip to Fenway and now I was taking him to the very same place, he said, without prompting, "And I'll take my grandson there too.")
Tuesday didn't turn out quite the way I had envisioned it, though it started off well enough. Eli was
delighted with the big picture window overlooking Fenway, loved jumping endlessly from one of the double beds to the other in that room, and enjoyed lobster for lunch. I took him to my favorite store in the world, the enormous Red Sox Team Store across the street from the ballpark on Yawkey Way. Despite telling him we wouldn't buy anything until we had walked through the entire store, he began pointing out things he knew he wanted within 30 seconds of entering this overwhelming collection of must have Sox paraphernalia.
But then things began to diverge from my carefully planned agenda. About 4:30 PM we were walking to where we were supposed to gather for our pregame Fenway tour. I stopped to ask directions, and, unbeknownst to me, Eli kept walking. When I turned around, he wasn't there. Thirty seconds later (it seemed much longer at the time) I found him being comforted by two street program sellers. Eli and I were both relieved to have found each other. (Don't tell his parents about this part of our trip please.)
Anyway, back together, Eli and I met our tour leader, and he took us up to the viewing section on top of the Green Monster. Eli had his glove, but the closest batting practice 'home run' was one section away. He was disappointed not to have gotten a ball. When an usher pointed out that one of the 'home run' balls had gone over his head had broken a windshield in a parked car across Landsdowne Street, Eli forgot about his disappointment and kept talking about the broken windshield and how far the ball had gone.
Next, we went onto the field and were able to stand just behind the batting cage. We had brought a number of items we hoped we could get signed by David Ortiz, Dustin Pedroia, Mookie Betts and any other Sox players we saw. Unfortunately, there were no Sox players anywhere to be seen. It was the Tampa Bay players who were taking batting practice as the Sox had completed their batting practice already and were in their clubhouse. No signatures for us, and no chance to meet David Ortiz, Dustin Pedroia, or Mookie Betts.
Before the game actually began, I took him to the patio inside Gate B where there were bricks 'inscribed' by fans who donated money for a resurfacing of the patio and to support a charity. It took a few minutes, but I found the two bricks I had purchased, one saying "Thanks Pappy, Love Richard" and a second one saying, "Beth, Keep the Flame Alive, Love Papa." I don't think Eli was particularly impressed as he was hungry and ready for the game to start.
Finally the game. Great seats, directly behind the catcher and high enough that we had a 'bird's eye' view and could see if the umpire was right or wrong in calling balls and strikes. First inning Tampa Bay got a run. The Sox later tied it and went ahead, only to see Rays get two runs and tie it up. I had told him there would be a message on the scoreboard with his name after the fifth inning. But that time came and went, and we didn't see any message. In the eighth inning, just seconds after I mentioned to Eli that Tampa Bay's best player was coming to bat, Evan Longoria hit a ball 434 feet over the Green Monster and out of the park to put Tampa Bay ahead by one run. Dustin Pedroia, Mookie Betts, and David Ortiz couldn't get the run back, and Eli's first game at Fenway was over, a 4-3 loss.
(Aside 4: I've chosen not to burden Eli with the Red Sox pessimism and realities with which I grew up — 48 years of never winning the World Series and the fact that my grandfather never saw them win a WS at all. Yes, the Sox finally won the WS in 2004 after 86 years of not doing so and went on to win two more WS within the decade. Nevertheless, Red Sox fans, myself included, have yet to overcome the pessimism and fatalism that those 86 years instilled.)
The next day I drove Eli to see where I had lived on Beacon Street when I was born, just a stone's throw from Fenway and to see where my father had lived in Brookline when he was Eli's age. We also saw where his mother had lived after college, amazingly, just across the street from where my father, her grandfather, his great grandfather had lived. We went back to the Sox store, our third trip, and then headed to an afternoon game where we had seats near where my grandfather had had his season tickets. We were three rows off the field and just behind where the Sox players waited 'on deck' to bat. Eli seemed pretty tired (he had stayed up almost to midnight the previous day), and when the Rays again scored a run in the first inning and two in the second, he said something like, "Here we go again."
He revived when David Ortiz, from the on deck 'circle', picked up a foul ball, looked into the stands, spotted Eli, and flipped the ball to him over the screen. Unfortunately, a guy just in front of us grabbed the ball and gave it to some other kid. As the game went on, the Rays went ahead 4-1, and Eli had been unable to get a used ball, despite everyone around us trying to help. I told him not to give up, and shortly thereafter, the ball boy flipped ball over the screen to him, and with his glove on his left hand and sitting on my shoulders, he caught it.
Heaven.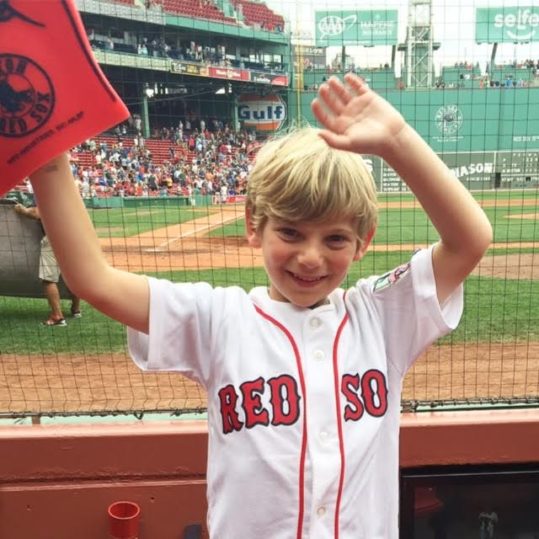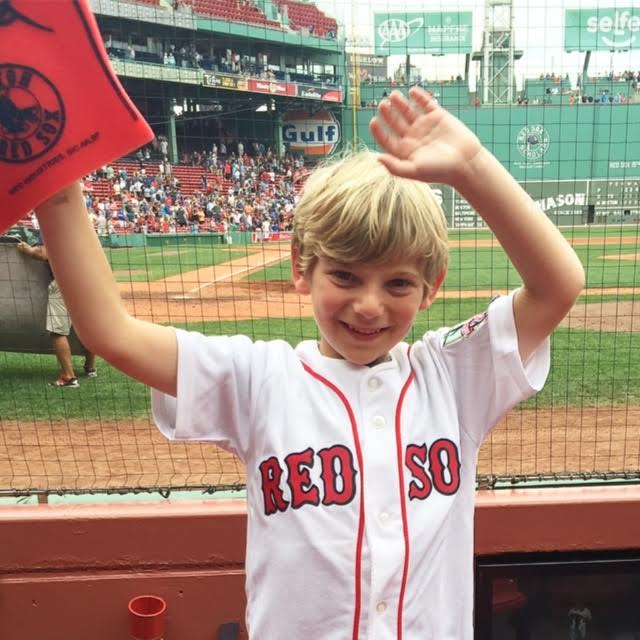 We probably could have come home then, but now Eli was lit up. The Sox loaded the bases, and Hanley Ramirez hit one over the Green Monster, making the score 5-4 Sox. Then 'we' got another run, but the Rays tied the game, 6-6. I saw a second loss coming, but not Eli. He was rewarded for his optimism and hope as the Sox scored two runs in the eighth and held firm in the 9th inning.
Eli had his 'caught' baseball, seen a Sox grand slam, and had his first Fenway victory. The loss from game one was forgotten, as was his not getting autographs or seeing his name on the scoreboard. (We later learned, thanks to the very helpful Reservations Manager at the hotel, Evan Somma, the message had indeed been posted, just not on the main scoreboard. See the picture at the top of this post). On the way out, I challenged Eli to show me where the two 'family' bricks were, and he led me right to them.
At dinner, he told me his five favorite things over the two days: 1) seeing his first game in Fenway, 2) catching a ball, 3) spending time with grandpapa, 4) seeing a grand slam over the Green Monster, and 5) seeing Fenway Park. (Sure I loved number three, but actually I loved them all!)
Assuming Eli keeps his word and takes his children and grandchildren to Fenway, that will make for seven generations and well over 100 years of Sox support in our one small family.
How's that for keeping the flame alive?