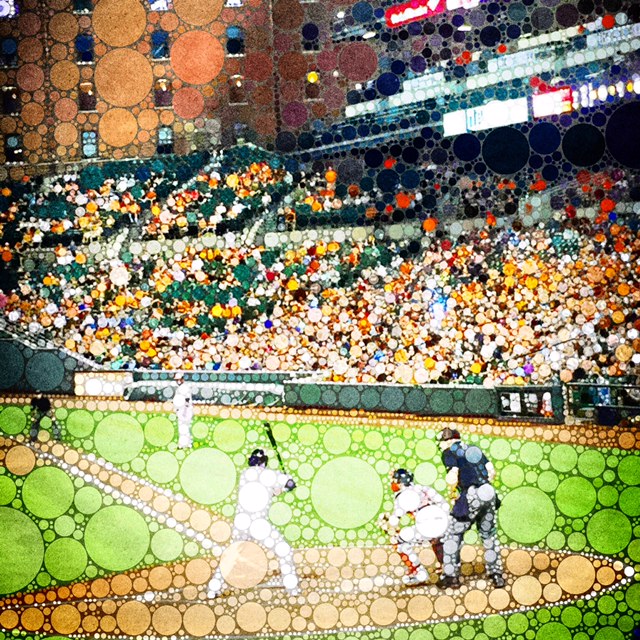 The winners of two of the 2021 MillersTime Contests have been decided. Two remain to be chosen.
CONTEST #1: How will the COVID-19 virus affect the 2021 MLB season? Include some Overall Predictions as well as some Specific Ones. Creativity is encouraged. I'll choose the five best submissions and have MillersTime baseball contestants vote on the winner:
No decision until I hear from you all. Choose which of these you think deserves to win. Put your choice in the Comment section of this post or email me (Samesty@gmail.com) your choice by Nov. 15th.
1. Minimal impact. A game postponed here and there, and those will be early in the season. Every team will complete their schedule in full barring a late season rainout.
2. Very little overall. There will be some hand-wringing about vaccinations, but the season will happen and a champion will be crowned. Attendance will increase throughout the season, and the World Series will have a completely full stadium.
3. As the summer comes along and people get vaccinated, increasing attendance at baseball games will be one of the ways that the country starts to measure the return to normalcy. This will help to restore MLB as a major fixture in American public life.
4. Teams will have full stadiums by July 4th because of herd immunity and availability of the vaccine. The Blue Jays will finish the season in Canada but still have to start the season in the US.
5. All 162 games will be played and there will be over 75 doubleheaders because of COVID cancellations. I think last year was around 44. (2021 Actual Results: It was a full season with only one team playing 161 games. Last year there were 45 doubleheaders; this year there were 59.)
And on the 'creative; side, this:
6. Pete Rose will contact COVID and pass away and will ultimately get elected to the Hall of Fame posthumously. AND – Barry Bonds, Mark McGuire, and Sammy Sosa all get their Covid vaccinations and issue a joint statement, "We got our injections to make ourselves better. How 'bout that Hall of Fame?"
CONTEST #2: Pick your favorite MLB team (or the team you know the best) and outline how they will do in the 2021 season compared to last year. Include both general and specific predictions and the reason for those predictions.
Seven of you basically nailed your teams and showed you knew them well: Ben Senturia on the Cards, David Price on the Yankees, Brandt/Samantha Tilis on the Red Sox, Larry Longenecker on the Rays, Justin Stoyer on the Orioles, Zack Haile on the Reds, Jere Smith on the Red Sox, and Chris Ballard on the Astros.
CHRIS BALLARD is the winner. Here is why:
He predicted the Houston Astros would do the following:
Record 95-67, 1st place in the division, and 4th best record in baseball. (Actual record – 95-67, first in their division, and tied for the fourth best record in baseball.)
Lance McCullers Jr. will break out with an ERA below 3.30 and win over 15 games. (McCullers's ERA was 3.16, and he won 13 games.)
MVP of the team – Kyle Tucker will hit .290 + and have over 30 home runs. (Tucker hit .294 and hit 30 home runs.)
Altuve, Alvarez, Bregman, Correa, Tucker will all hit over 25 home runs. (Altuve hit -30, Alvarez – 35, Correa – 26, Tucker – 30, Bregman – 12)
Prize: Chris can join me for a Nats game of his choice next year in my seats, 20 rows off the field between home and first, or I'll get tickets and join him for a regular season game of his choice, wherever he chooses. (Note: Chris still owes Ellen, Brandt, Elizabeth, and me a steak dinner for a bet from two years ago.)
CONTEST #3: Fill in the Blank and True/False Questions:
a. Which team till have the most wins in the AL and NL? Correct Answer – RAYS (100) and GIANTS (107).
b. Which team will be King of NY? Question submitted by Tim M. Correct Answer is the YANKEES whose record was 92-60. Mets were 77-85. (Though the Mets did win three out of four games played between the two teams).
c. Number of hitters who will strike out more than 200 times? Question by Zack H. Correct Answer is TWO (Joey Gallo (213) and Matt Chapman (202)
d. Who will be Manager of the Year in either the AL or NL (name one). Correct Answer: NOT DECIDED YET as we will have to wait for which, if any of the following wins Manager of the Year: Counsell (Brewers), Alex Cora (Red Sox), Kevin Cash (Rays), Dusty Baker (Astros), Brian Snitker (Braves), Gabe Kapler (Giants), Tony LaRussa (White Sox), Carlos Montoyo (Blue Jays), David Ross (Cubs), or Jayce Tingler (Padres).
e. Which AL & NL teams will have the most improved record from 2020. Correct Answer: RED SOX (from .400 to .568) & BREWERS (from .483-.586)
True/False:
6. Every team below the league average in payroll (currently $118,485,369) will miss the play offs. Question by Zach H. Correct Answer: FALSE as the Brewers and Rays were under and made the playoffs.
7. Dodgers & Padres will combine to win 200 or more games. Question by Dawn W. Correct Answer: FALSE. Dodgers held up their end winning 106, but the Padres only won 79. Their combined wins totaled 185.
8. There will be more HRs in 2021 on a per game basis than in 2019 (1.39) and in 2018 (1.15). Question by Steve K. Correct Answer: FALSE. 1.19 HRS per game in 2021, a few more than 2018 but far behind 2019.
9. No MLB team will play all 162 games. Correct Answer: FALSE. All teams but the Braves played 162 games. Braves played 161.
10. No MLB pitcher will have an ERA below 2.00. Correct Answer: TRUE. The closest weren't even close – Corbin Burnes (Brewers)- 2.42 and Max Scherzer (Nats/Dodgers) – 2.46.
We have to await before we know who is chosen as Manager of the Year to determine. The following are in the running for this contest: Ed Scholl, Daniel Fischberg, Matt-Wax-Krell, Larry Longenecker, and Jeff Friedman.
CONTEST #4: What two teams will make it to the World Series, which one will win, and in how many games? (And a few other questions in case of a tie).
There was no need to go to a tie breaker. Most of you were wildly off, as were many of the baseball writers and supposed experts. MillersTime contestants didn't do well either as you overwhelmingly predicted the World Series would be between the Dodgers and the Yankees, though a few of you expected the Astros to get to the WS.
Only three submissions got anywhere close:
Bill Barnwell had the Astros losing to the Dodgers in six games, and Rob Higdon had the Astros losing to the Padres in six.
NICHOLAS LAMANNA is the winner because he predicted the Braves would win the World Series in six games (though he had the White Sox and not the Astros as their opponent).
Prize: Nick gets one ticket to the 2022 World Series or two tickets to the 2022 All Star Game in Los Angeles.
*** *** *** ***
Please remember to vote for your choice for the winner of Contest #1. You can put your choice in the Comment section of this post or send it to me by email – Samesty84@gmail.com.