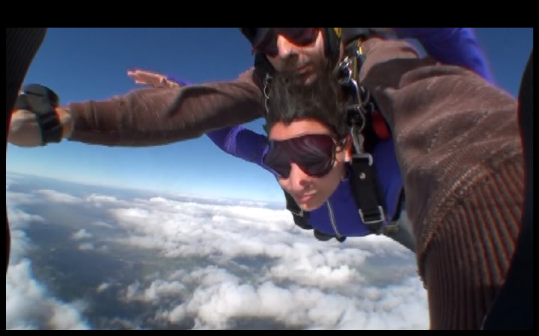 (When our younger daughter Elizabeth was in college, she called us to say, 'Don't kill me. I've got something to tell you." We promised not to kill her, whereupon she told us she had pierced her tongue.
Only later did we learn that she had not done so at all but was just testing us out to see how upset we might get. And, of course, when we didn't disown her, she then got her tongue pierced.
Well, it's now ten years later, and Elizabeth called last night to tell us she was going skydiving today. I thought (silently) that she shouldn't do it. But she's 28, and I wasn't going to start telling her what not to do now.
And so about 9:30 AM this morning, we got the following text message:
"I'm alive. Coolest thing I've ever done."
Being not only a father but also the editor of MillersTime, I quickly (after I told her I was relieved), texted back saying, "I see a MillersTime post in the offing."
And here it is:)
"The Coolest Thing I've Ever Done"
by Elizabeth R. Miller
It wasn't exactly something I had planned on doing. I can't say I had a burning desire to jump out of a plane from 11,000 feet and free fall for 60 seconds and then parachute to the ground. But hell — I figured — why not try it?
My friend Caroline had come to Miami Beach from NYC for a weekend visit, and we were discussing things to do the next day that would be unique and fun. I suggested sky-diving, totally thinking she wouldn't be up for it. We watched some videos online and called the Miami Sky Diving Center to find out if they'd have availability for the next day. They did, but Caroline wasn't ready to commit, so we figured we'd just do something else less adventurous instead, like jet skiing.
About two hours later, as we were getting ready to go out for dinner, Caroline turned to me and said, "I think we should do it."
So we somewhat nervously made the reservation for the next morning.
Would we be able to sleep? After an amazing dinner at a new restaurant in South Beach (The Dutch at the W Hotel), we walked around Lincoln Road for a bit and headed home. I slept just fine. Caroline was up a little early.
After a light breakfast, we drove about a half an hour to the Tamiami Airport and parked outside the Sky-Diving school.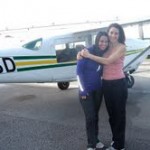 After a 10 minute "lesson" (only 10 minutes – and the 'teacher's' English left a lot to be desired), we were harnessed in and met our instructors, who reported they'd each jumped over 7,000 times in their lives and had already done two jumps this morning, and it wasn't even 9 AM yet!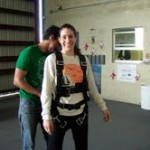 We signed up for tandem jumps which means we would literally be strapped into the instructor for the entire time. Luckily, they were both really nice and answered all our incessant questioning.
Actually, Caroline asked so many questions, her instructor asked if she was a lawyer. We held hands as the plane climbed. Perhaps inauspiciously, the plane was held together with electrical tape in certain places. As we got higher and higher, I had to loosen my hand from Caroline's grip — my fingers were turning purple she was squeezing so tight.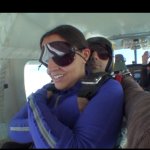 When we hit 11,000 feet, we put on our googles, edged to the side of the plane, and jumped. Caroline first then me.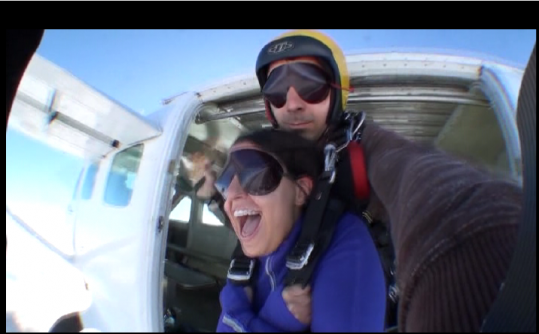 I am not going to lie — I was freaking out. The first rush out of the plane was the scariest. I probably said "Oh My God" 30 times. Caroline reports she screamed for the entire free-fall which lasted about 60 seconds.
It was unlike anything I have ever experienced. For those of you who don't know me, I am rarely at a loss of words for how to describe something.
But I really can't pinpoint the feeling — probably because it is something I have never experienced before. A rush to be sure, but that doesn't capture the exhilaration!
After the free fall of several thousand feet, the instructor opens the parachute (and yes he has a back-up in case the first one doesn't work). You literally just float on down to the ground. It was a phenomenal view; you could see downtown Miami, Key Biscayne, and the Ocean. The ground was so green and lush — really incredible. I even got to steer the parachute using the handles above my head.
I'm big on experiences. I like to try things that are unique, and I have to say this was a feeling unlike anything else. I am also quite proud of myself that I managed to keep my eyes open the entire time! The whole experience was over way too quickly…
We paid the extra to have the video document the experience — because really when will we ever do this again?
Though I could definitely be convinced.
The side of one of my Lululemon bags says that you should "do one thing a day that scares you." I think this buys me a few weeks.
If you are on the fence about trying this, I say go for it. It is completely unique, and I've never felt anything like it. It is without a doubt the most exciting and scary thing I have ever done.
My only advice is not to think about it too much. Don't try to be rational, and don't plan far in advance. Go early in the morning so you aren't worried about it all day.
Three shout outs: Heather T. who did this a few years ago and told me how awesome it was. Tiffany L. because when you come visit me in Miami we are doing this. And of course, Caroline C. for being an adventurous and amazing friend!
After it was over, we pondered what to do for the rest of the day. Because really, what do you do after going sky-diving before 10:30 am?
We figured we should head to the beach, where I typed this entire post from my iPhone.
So now the only thing left to wonder is what I'll do next weekend…

(Ed. — Check back in a day or two when I hope to have posted a video.)